Kim Kardashian Blasted as 'Horrible' Influence on Girls by MMA Champion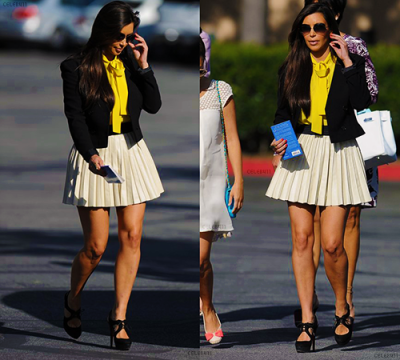 Kim Kardashian should not be a role model to young women because of her past promiscuity that led to fame, according to mixed martial artist Ronda Rousey, who said she was willing to fight the reality television star because of her negative impact on society.
"I would beat the crap out of Kim Kardashian actually," Rousey told EsNewsReporting.com at the ESPN Body Issue wrap party. "Any girl who is famous and idolized because she's in a sex video with some guy and that's all that she known for…I think it's so stupid. Sorry, but it's true."
Rousey, 25, began speaking about Kardashian when she was asked about any celebrities she had issues with. Still, the fighter who made the cover of ESPN magazine's most recent body issue said she is not shocked by Kardashian's popularity but does not agree with people forgetting where her fame came from.
"Why is everyone slipping it under the carpet now, like oh yea she's selling Sketchers to 13-year-olds," Rousey said. "I don't want a girl whose entire fame is based on a sex video to be selling Sketchers to my 15-year-old little sister."
The fighter went on to say that she was inspired to be a better role model to supplement Kardashian's bad example.
"That's a horrible kind of role model that I do not want to be around. That's why I'm doing things like this, because girls like Kim K are being pushed in my sister's face," Rousey said. "It's just not healthy she shouldn't even have role models like this. That's why I'm doing stuff like ESPN body because somebody needs to do it."
The negative remarks focusing on Kardashian are not the first time that the 31-year-old reality television star has heard disapproval for her public image. Earlier this year, first lady Michelle Obama admitted that neither she nor her husband wanted their daughters watching the Kardashians on television.
"Barack really thinks some of the Kardashians – when they watch that stuff – he doesn't like that as much," the first lady said in an iVillage report. "But I sort of feel like if we're talking about it, and I'm more concerned with how they take it in – what did you learn when you watched that."
Last month, Kardashian told media mogul Oprah Winfrey that she is misunderstood.
"I hardly drink, I go to church on Sundays," Kardashian told Winfrey during part two of "Oprah's Next Chapter." "I'm so far removed from my image."
Kim Kardashian with Oprah