'Kindness Effect': Christian Business Woman Sparks Nat'l Movement Inspiring People to Pay It Forward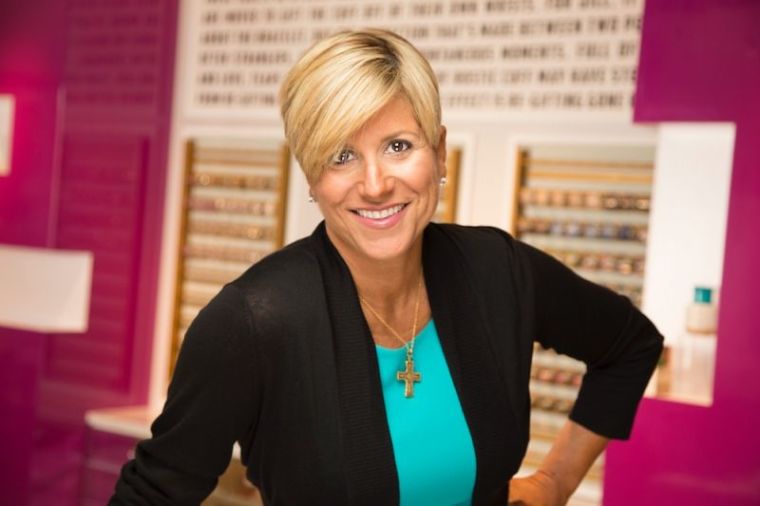 Business-Woman Jill Donovan has made a name for herself as an esteemed professor and attorney. But it was her generous heart, inspired by her faith, that sparked a national movement to spread kindness throughout the world.
Appearing as a one-time guest on "The Oprah Winfrey Show" years ago ignited a change within her heart that is now impacting the lives of thousands. Donovan took a bad experience on Oprah, where she was criticized for her business of regifting and created another business selling The Rustic Cuff, which has since skyrocketed.
Donovan taught herself how to make cuffs and decided to gift them away to friends and family. Soon she was persuaded to sell her unique bracelets, and the business just exploded with success. The Rustic Cuff has been worn by celebrities such as Miranda Lambert, Giuliana Rancic, and Oprah Winfrey. However, Donovan says it's not about the bracelet itself, but more so about the connection that is made between two people in the process of gift giving because of the cuff.
In her new book, The Kindness Effect published by Charisma House Book, Donovan aims to show readers what happens when you give generously to others, pursue your dreams, and never give up.
Below is an edited transcript of an interview with Donovan in which she explains the heart behind her generosity and the faith in God that inspired it all.
Christian Post: What inspired your Kindness Effect initiative?
Donovan: The Kindness Effect is something that organically happened through the making and sharing of cuffs. It's really not about cuffs as much as it's about the avenue that God used for this to happen.
CP: Talk to us about wanting to use regifting as a way to be a blessing to others?
Donovan: It's about the connection that happens between two people when you feel led to take the cuff off your wrist and share it with someone else. You think that the person that is receiving it is the one that's going to be so blessed and what you realize is the person that does the giving is equally as blessed, if not more so. The cuff is simply the token that is passed — but the real GIFT is in connection.
CP: How did your faith play a part in the creation of Rustic Cuff?
Donovan: My faith has always been the driving force in my life but especially pertaining to Rustic Cuff. This Bible verse is proudly hanging in "Trust in the Lord with all your heart and do not lean on your own understanding. In all your ways acknowledge HIM and He will make your paths straight."
It is my firm belief that when a door in life is presented to me and I am supposed to walk through that door then it will be open for me. In the same mindset, if that door stays closed, then that door was never my door.
CP: Not many people would leave their established professions to become charitable out of fear. What was your driving force?
Donovan: It definitely wasn't like I sat down and wrote out a blueprint for what was going to happen. I literally just followed the passion that God was putting in my heart and took it one step at a time.
CP: What are you hoping people take away from your book?
Donovan: Give what you have. Right where you are. Expect nothing in return, and you will be amazed at what happens. It is not our responsibility to know what will happen after we express an act of kindness or irrational giving. It's that simple. We only need to listen to follow that prompting; the rest is God's responsibility but that small token that you share with a stranger when you feel led, may just be the big sign of hope that person may have been looking for.
CP: You encourage people to discover their gifts as you did and use them to help others. What advice do you offer for people who feel limited in achieving their goals?
Donovan: On the entry to our Rustic Cuff corporate headquarters is a wall that says: "Do not compare your chapter one to someone else's chapter 20." I think our biggest limitation we face is that which we place upon ourselves. It's about the talents that God gives each of us. If you pursue your passion your gifts will become so apparent to not only you but everyone around you — and in pursuing those passions you will find your purpose.
Every person has a talent, gift, skill, or passion that can be used to benefit others. We are all different, and our abilities and resources are different too, but that doesn't matter. If we each dedicate a small part of every day to intentionally being kind to someone, we could make a profound impact on the world. As cliché as it sounds, the effect of kindness is simply a ripple to be seen and felt so strongly it continues far beyond the first initial act. Your words, actions, and thoughtfulness have the power to change someone's life in ways you may never know.
For more information on The Rustic Cuff and The Kindness Effect, visit Donovan's website.