Kirk Cameron Reveals He's a Minister; Lists Top 3 New Year Resolutions (Video)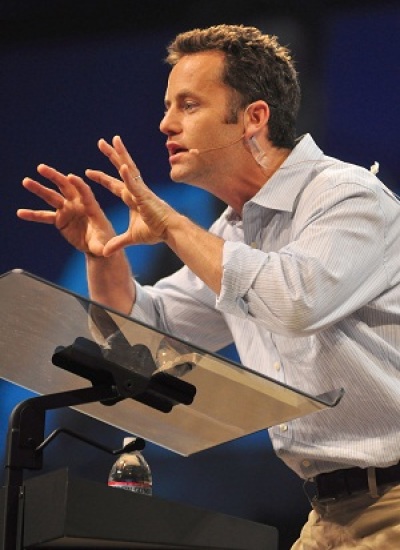 Kirk Cameron returned to social media on Saturday to share his top New Year's resolutions and to reveal that he's now an ordained minister.
"I went to a wedding, not as a participant but as a minister. I actually married a couple! I've never done that before. So, I'm officially a minister," Cameron gushed in the Facebook Live video. "That was very profound for me."
Cameron also thanked his supporters for the love and encouragement they gave him and his family as he mourned the loss of his "TV dad" Alan Thicke. The California native was initially among the first people to talk about the funeral, calling it a "gift to us all" as he and his "Growing Pains" family were reunited to honor Thicke last month.
"It really made me and my wife think of what's important, how precious life is, and how quick the days go by," he said, reflecting on the funeral.
Cameron then proceeded to share his top three New Year's resolutions. 
"No. 1, I want to love God more — that's number one. Because when I love God I'm loving other people. That's what He commanded: 'If you love me then follow that up with loving your neighbor as yourself.' I can do a better job of that and I intend to with God's help this year.
"No. 2, family first. I wanna find ways to put my family first, letting them know that they're the most important people in my life. I can do a better job of that. I'm working on that."
"No. 3, work hard. There's too many great opportunities and so much work to be done. I wanna work hard while putting God first and loving my family most. I think those are my top three New Year's resolutions," Cameron said. 
In October of last year, Cameron released a movie called "Revive Us" in which he called for a revival and an awakening among believers, and urged Christians to vote on godly principles in the Nov. 8 elections.
After the presidential election, Cameron vowed that he would keep busy in the New Year by praying for President-elect Donald Trump. He shared his prayer points in a Facebook Live video where he spoke about a conversation he had with his friend and author Eric Metaxas.
"We need to do it in unity, together with one another, looking past our differences to the greater good for the whole nation. I think that's what we ought to pray for. Let's pray for unity, wisdom, and humility, not only for our president-elect but also for all of us as the people of this great Republic," Cameron added.