Kirk Franklin Says 'We're All Sinners' When Asked About Homosexuality, Same-Sex Marriage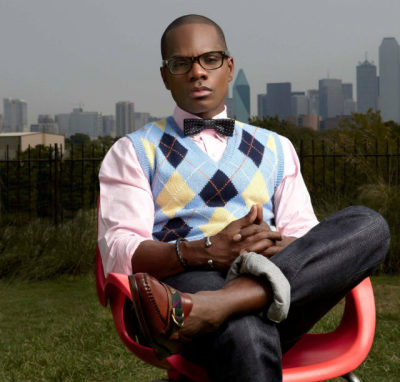 Less than a month after being criticized by pro-gay activists for previously expressing the belief that gays and lesbians can leave a "homosexual lifestyle," gospel artist Kirk Franklin is facing criticism from some Christian fans for remarks he made during a recent radio interview in which he was asked about his thoughts on homosexuality and same-sex marriage.
"A lot of people in the church are in conflict with this. How do you feel about same-sex marriage?" asked Sway Calloway during his SiriusXM program "Sway in the Morning," in which the DJ commented on changes the U.S. has seen in regard to marriage being redefined in 12 states, plus Washington, D.C., to include same-sex couples.
"First of all, how I feel about any topic, I think, is going to be really minute. I think that's been the big problem, is that I think that as Christians, as the church, we've come across like the police," said Franklin, standing at the mic while Sway and co-host Heather B looked on.
"Whatever my lens is, it's always going to be trying my best to see something through what I believe is going to be God's word, and not God's word in the essence of dogma or in the essence of religion, or to be right and to make other people wrong," he added. "I first would probably always want to say I'm very sorry for all of the ugly and all of the painful things that people have even heard from church people, because things can come from a very homophobic lens. Sometimes it feels very homophobic when people try to make their stance and their beliefs, and there's been some very painful, ugly things that have been said ... that not have always been in the essence of a heart for Christ.
"How I would always sum it up whether you're talking about any issue that people want to know what does God's word say about it, this is the one that I always want to stand on in the Book of Romans. It says (in chapter three), 'For there is none righteous, (no) not one.' So there is not one on the planet that is perfect before God's eyes. Then the next verse says, 'For all have sinned and come short of the glory of God.' That's me, that's you, that's anybody walking on this planet, that God sees us all as broken people that need His love and His grace."
Franklin, 43, went on to add that, "if we were not sinners, Jesus would not have had to come. If he didn't see us as sinners, he could have loved us without dying for us. He died for our sins. So if we're all sinners, that means everybody's in the pot together needing the same love, the same grace and the same forgiveness."
Sway, who is also a DJ on the MTV network, asked Franklin directly: "So you don't have a problem with it?" The award-winning producer and recording artist repeated that he "sees it exactly as the way that I would see every one of us, is that we're all sinners needing grace."
"I believe that if the Bible calls anything a sin, it's listed in the same category as you would list pride, as you would list hate, as you would list any other thing. That's why I said we're all in the same pot together," he added.
While fans of Franklin who viewed his interview with Sway thought he "did a good job of answering this question," others suggested he was "cowardly" and "danced" around the question.
"He said, 'What does God's word say about it, that there is none righteous and for all have sinned,'" wrote a viewer named Reco Williams. "At the end of the day, sin is sin regardless of what the sin is. It's sad to see so many fellow Christians quick to condemn someone to hell. Only God can do that. The grace of God covers all. As Christians we (know) same-sex marriage is not allowed, but why focus on one sin all of the time when you are dealing with sin in your own life?"
A viewer who took a different approach wrote: "Sway asked Kirk a straight up question and Kirk gave him a crooked down answer! Kirk knows very clearly what the Word of God says and he denied Sway and all the listeners the truth of the matter. It's true we are all sinners and need to repent, but the question is referring to a particular lifechoice or lifestyle that is in fact an abomination, according to the word of God! Is that the answer he would give a young person in the church?????"
Franklin, who appeared on "Sway in the Morning" on Friday, May 31, also commented on his difficult upbringing and living a promiscuous lifestyle as a youth, among other topics. The popular gospel artist has shared previously how Christian pastor Dr. Tony Evans, whom he calls a spiritual father, helped him on the road to freedom from his addiction to pornography, an issue he discussed on the SiriusXM program as well.
Franklin, who recently launched his own channel on SiriusXM called "Kirk Franklin's Praise" and premiered in March as musical co-host for the Game Show Network's "The American Bible Challenge," was the source of complaints last month from pro-gay activists who spoke out against his appearance at Washington, D.C.'s Emancipation Day celebration this year.
The multi-Grammy Award-winning, multi-platinum selling, crossover gospel artist was paid $80,000 by local officials to give an outdoor concert on April 16 in Freedom Plaza as part of the annual Emancipation Day celebration, according to the Washington Blade.
Earl Fowlkes, president and CEO of the Center for Black Equity, which advocates for the African-American LGBT community, claims Franklin "espouses which is in essence homophobia" and said he found it appalling that tax dollars were used to pay the musician.
"He has a First Amendment right to say whatever he believes," Fowlkes told the gay news publication. "However, I would not want my tax dollars to go to anyone who espouses which is in essence homophobia any more than I would want my tax dollars to go toward anyone who espouses racism or who was anti-Semitic. It's just not appropriate."
While the publication notes that Franklin's work "reflects his deeply held Christian beliefs," it labels him "anti-gay" in its headline due to comments he made about human sexuality in his 2010 book, The Blueprint: A Plan for Living Above Life's Storms. In the book, the gospel artist discusses everything from marriage to politics to sex and religion. In an interview about the book, which can be viewed below or on YouTube, Franklin made comments similar to those he expressed on "Sway in the Morning."
A Washington, D.C., Baptist minister identified as gay by the Washington Blade, told the publication he has met Franklin at religious events on numerous occasions and did not consider the recording artist to be hateful toward gays.
"If Kirk Franklin was a bigot, if he was someone who has espoused hateful feelings toward homosexuals or who had opposed their rights and fairness and equality before the law, then I think that would be different. But he has not ever done that," said Joseph Kitchen, 26.
"He was asked a theological question in a biblical setting and he answered it in the way in which he has been taught. And I think some people just need to understand that," added Kitchen, referencing a 2006 Associated Press interview with Franklin that was cited by the Washington Blade.
In that interview, Franklin was asked what he sees as "the future of the lesbian/gay/bisexual/transgender community in the black church" and whether he thought that one day "they'll all be expelled or converted," or that the issue would remain "a constant divisive force."
"I think that you have to be, as scripture would say, 'as wise as a serpent and as harmless as a dove.' To lovingly share the truth, to lovingly and to passionately speak the truth in love into the lives of all people and to allow that message that you speak, to trust that it has enough power to do the changing," Franklin responded.
The Christian Post's request for a comment from Franklin regarding his appearance on "Sway in the Morning" was not met by press time.
Watch Kirk Franklin discuss his 2010 book The Blueprint in the video below: