Kobe Bryant Buys New $329,000 Ferrari Amid Impending Divorce
Kobe Bryant spent an exorbitant amount of cash on a brand new Ferrari 458 Italia on Saturday, amid rumors that his pending divorce from Vanessa Bryant has become increasingly stressful.
The 33-year-old paid $329,000 via check for the luxury sports car, which is only a fraction of the NBA star's $25 million salary this season alone, according to TMZ.
The mid-engined car was produced by the Italian sports car manufacturer Ferrari in 2009 and boasts a a 4.5 L V8 engine which features direct fuel injection.
The car's suspension features double wishbones at the front and a multi-link set-up at the rear, and Ferrari's official 0-100 km/h (62 mph) acceleration is under 3.4 seconds.
Bryant, who has two daughters with Vanessa, was allegedly blindsided when he was served with divorce papers after 10 years of marriage and has been desperately trying to save his marriage ever since.
Some critics suspect that the new Ferrari is a delightful distraction from Bryant's divorce drama, which is allegedly taking a toll on the Los Angeles Lakers star.
Vanessa, 29, cited "irreconcilable differences" during her December 16 divorce filing, but it is believed that the mother of two simply grew tired of Bryant's ongoing infidelities, which includes a 2003 incident with hotel employee, Katelyn Faber.
"She's been dealing with these incidents for a long time and has been a faithful wife, but she's finally had enough," a source told TMZ.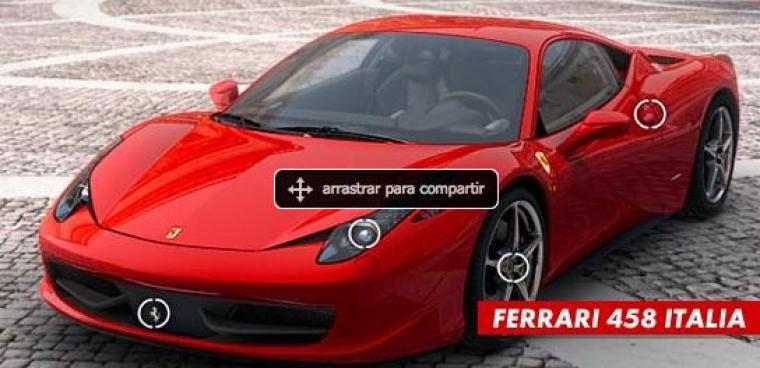 Bryant's estate is estimated to be worth approximately $150 million, and along with joint custody of their daughters, Vanessa has already been awarded with $75 million and three of the estranged couple's properties in Newport Beach, Calif, according to the New York Post.
Under California law the estranged couple's divorce is finalized 6 months after the divorce filing, which in this case means mid-June, but Bryant is reportedly unwilling to let his wife go and has been "aggressively" pursuing her by showering her with lavish gifts, including expensive jewelry.
While the divorce is still pending, the pair recently sparked talks of a reconciliation after they were spotted kissing during the Lakers' Valentine's Day victory over the Atlanta Hawks, although it is believed that Vanessa is still pushing for a divorce.