Last World Trade Center Survivor Finds Her 'Angel in the Rubble'
Last year, The Christian Post spoke with Genelle Guzman-McMillan, the last survivor pulled from the rubble of the World Trade Center during the 9/11 attacks in NYC. Guzman-McMillan had just published her memoir, Angel in the Rubble: The Miraculous Rescue of 9/11's Last Survivor, sharing how while buried alive for nearly 30 hours she found herself full of regret and crying out to God. As the title of her memoir indicates, Guzman-McMillan believes God heard and answered her prayers – by sending an angel named Paul.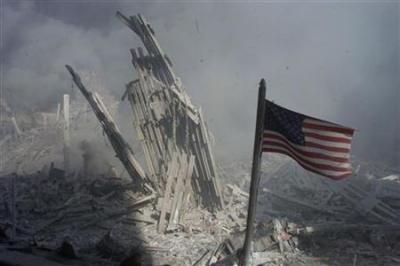 "I was asking God for a miracle, for a sign [and Paul] held my hand so tight ... reassuringly," Guzman-McMillan told CP last year, adding that she was sure she had not been hallucinating.
Twenty-seven hours before that life-changing encounter, Sept. 11, 2001 had seemed like any other day. Guzman-McMIllan's relationship with her boyfriend had been going great, and she was happy working for the Port Authority of New York and New Jersey in the offices on the 64th floor of the WTC's North Tower, or Tower One. In addition, she had been getting along fine without God, having rejected Him long ago.
But on that morning, American Airlines Flight 11 crashed into Tower One, sending Guzman-McMillan and her co-workers fleeing down the stairwell of the 110-story building as the structure rumbled and swayed. On the 13th floor, the now married mother of four paused to remove her high heels. It was then, Guzman-McMillan says, that her whole world literally came crashing down and her life changed forever.
Guzman-McMillan suddenly found herself critically injured and buried beneath piles of concrete and steel that had once been the North Tower of the World Trade Center. Faced with uncertainty about her eternal fate, she called out to the God she had rejected long ago.
Paul, as the unknown man who eventually appeared identified himself, was the answer she had been praying for – a sign that God had heard her prayers of repentance.
Along with Paul's reassuring words that she would be okay, were the sounds of rescue workers calling out for other potential survivors.
Guzman-McMillan told The Christian Post that she had met the men who pulled her from beneath the rubble, but that she had never managed to meet Paul. She was convinced that this mysterious Paul was an angel sent by God to encourage her through her ordeal.
However, not long after Angel in the Rubble was published, the mystery of Paul was soon solved.
William Croyle, the author who helped with the memoir, shared that as Guzman-McMillan was preparing to go overseas on a book tour, that this Paul had finally decided to make himself known after years of choosing to remain silent.
"On Aug. 6, 2011, four days after Angel in the Rubble was published, Genelle received an unexpected visit at her Long Island home from Tom O'Brien. The retired New York City fireman had flowers for her – and an unbelievable story to tell," Croyle shares online.
"O'Brien, as Genelle would learn, was one of nine firefighters from FDNY Rescue 2 in Brooklyn who rescued her from beneath the World Trade Center rubble on Sept. 12, 2001 after she had been buried alive for 27 hours. The other eight were Dave Arcerie, Stan Brzenski, Tom Donnelly, Bill Esposito, Larry Gray, Larry Senzel, Tony Tedeshi, and Paul Somin. Yes, Paul Somin is that Paul – the 'Angel in the Rubble' who found Genelle."
Croyle adds, "For ten years her wish was to find out who Paul was, and now she knows."
Commenting on whether the revelation of Paul being a real person as opposed to an angel might change Guzman-McMillan's story in anyway, Croyle relates how one reader who found hope and encouragement in reading Angel in the Rubble wrote him, saying: "You know, it really doesn't matter whether he was an angel from above, or if he was human. I believe he was still sent to her by God, and he will always be her angel."
Croyle addresses other questions about Paul's "discovery," his reunion with Guzman-McMillan and navigating their decision in revealing her "angel in the rubble" in more detail on his website.
As for Guzman-McMillan, she emerged from the rubble as a woman fully turned toward God.
"I knew I was a changed person," she said of her mindset as Somin and the other firefighters pulled her to safety. "I was just ... praising and glorifying God."