Lauren Spierer's Skull Found? Family Waits to Learn Her Fate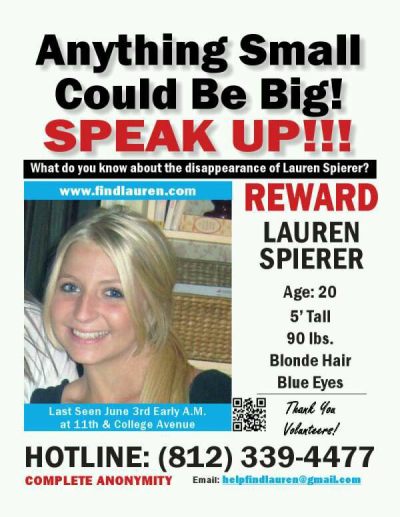 Lauren Spierer went missing a little over one year ago, but her family has never given up hope of finding her. Their search may be over, though, as a skull was recently discovered in the area where she was last seen.
"In the days ahead, a family will have answers they have been desperately seeking. Will it be ours?" the Spierer family posted on Facebook. "When will you end this nightmare for our family? We will never give up. We are just as determined as we were on June 3, 2011. You need to know that. It's our promise to you. For now we continue to wait."
Spierer, a student at Indiana University, disappeared on June 3 last year after a night of partying. She was seen leaving a bar, but police lost her whereabouts soon after. Authorities investigated several persons of interest, though no one was formally charged.
"We are appealing to the parents of the children who may have first-hand or second-hand knowledge of what happened to Lauren," Rob Spierer, Lauren's father, said at a press conference last July. "Please take the time to sit down with your children over the weekend, sit down and talk to them and find out if they know anything."
Police contacted the Spierer family after a fisherman found the skull and brought it to authorities. Divers searched the rest of the lake, but nothing more was found. That does not diminish the Spierer family's resolve to close the case and learn what happened to Lauren.
"We don't have any information," Robert told WRTV Indianapolis. "We're waiting just like everybody else." They may have to wait another six to eight weeks for test results conducted by a forensic anthropologist.
Lauren is 4'11" and weighs less than 100 pounds. Anyone with information related to her disappearance is encouraged to call the Indiana police or leave information at findLauren.com.
Lauren Spierer's Skull Found? Family Waits to Learn Her Fate