LeAnn Rimes Photographed Crying; Singer Upset Over Brandi Glanville Tell-All?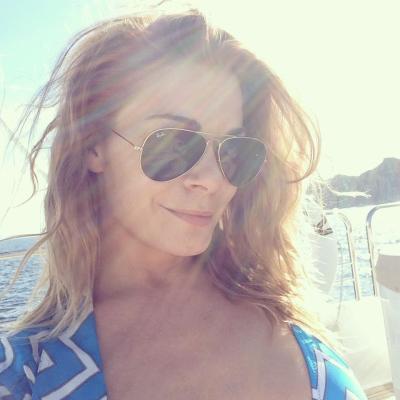 LeAnn Rimes was recently photographed crying during a lunch outing with a friend following reports that the singer may be headed for a breakdown.
The 30-year-old appeared to be visibly shaken and received comfort from a friend as she left Hugo's restaurant in Los Angeles Monday. It is still unclear what reduced Rimes to tears, but fans are speculating whether ongoing reports of alleged emotional issues may in fact be accurate.
"Everyone around LeAnn can see how much she struggles. She has body issues and worries Eddie [Cibrian] will cheat," a source reportedly told Life & Style. "Friends and family are constantly worried she's going to fall apart again if she doesn't get help."
The troubled singer has been embroiled in an ongoing feud with reality TV star Brandi Glanville since 2009, the same year that Rimes had an affair with Glanville's husband Eddie Cibrian. Although Rimes is now married to Cibrian, 41, the singer appears to have difficulty moving past the feud and in a recent interview lashed out at Glanville.
"I usually don't engage, but there comes a time when you're just like, 'Screw you!'" Rimes said about Glanville during an appearance on "Jimmy Kimmel."
The pair has hurled insults back on forth via press interviews as well as social networking site Twitter for three years. The bickering evidently became too much for Rimes in August, prompting the troubled singer to check in to a treatment facility for "stress."
"LeAnn has voluntarily entered a 30 day in-patient treatment facility to cope with anxiety and stress," Rimes' representative, Marcel Pariseau, previously told People magazine in a statement.
Some critics have questioned whether reports of Glanville's upcoming tell-all book may have upset Rimes. The single mom will reportedly reveal explosive details about Rimes' affair with Cibrian in her book entitled "Drinking and Tweeting: And Other Brandi Blunders."
"She details the lies, affair, hurt and how it all went down. There are things [LeAnn] does not want her family and fans to know and soon they will," a source told Life & Style magazine. "There are tons that no one knows that went on, and Brandi holds nothing back."
The source allegedly went on to predict that Rimes "won't be happy" about the content in Glanville's book.
"[LeAnn] has painted the picture that it was just out of her control and how she fell in love with Eddie and it was done respectfully but that could not be further from the truth," the source continued.
"Things are gonna get worse [for LeAnn] before they get better. LeAnn won't be happy," the insider said.
Katie - LeAnn Rimes in OTK