Lebron James Hailed by Christians for Opening School for At-Risk Kids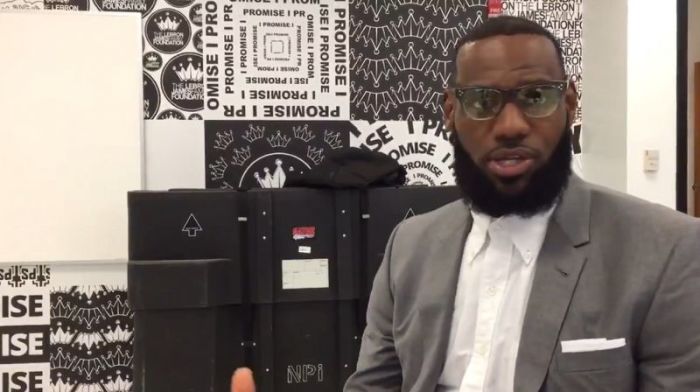 Lebron James, the NBA icon and new Los Angeles Lakers star, is being hailed by Christians and others for opening a new public school for at-risk children that is set to change the destinies for many in his hometown of Akron, Ohio.
In one of his interviews regarding the announcement, James hit out at U.S. President Donald Trump, however, arguing that he is trying to use sports to divide the country.
"The I PROMISE School, a brand new public school in Akron established by the LeBron James Family Foundation and Akron Public Schools, is open [sic] its doors for an historic first day of school with its inaugural class of 240 I PROMISE students," read a message on Sunday by the LeBron James Family Foundation Twitter account.
"The jitters before the first day of school are real right now!!! Tomorrow is going to be one of the greatest moments (if not the greatest) of my life when we open the #IPROMISE School," James added in a post on his own account.
"This skinny kid from Akron who missed 83 days of school in the 4th grade had big dreams. for the kids in Akron to give them everything they could need to find their passion, give back to our community and change the world!! This school is that. The people are that. Akron is that," he added.
"And it doesn't get bigger than opening day tomorrow (until the next thing we dream of) I'm so unbelievably proud and excited to see my kids, my home, and the 330 tomorrow. THANK YOU!"
I Promise School is specifically designed to help at-risk children who are lagging behind in school or struggling at home, SBNation.com reported, and focuses on fighting the factors outside the classroom that are causing them to struggle.
What is more, the school offers free tuition; uniforms, a bicycle and helmet; transportation within 2 miles; breakfast, lunch, and snacks; food pantry for the family; job placement services for the parents; as well as guaranteed tuition to the University of Akron for every student who graduates.
The initiative has been praised by major figures, such as former President Barack Obama and former First Lady Michelle Obama.
"@BarackObama and I are so proud of @KingJames and @IPROMISESchool. Kids in Akron and across the U.S. are lucky to have you as a role model on and off the court. Keep using your platform for good and giving our kids a chance to shoot for the stars," Michelle Obama wrote on Twitter on Tuesday.
Orthodox Christian author Rod Dreher of The American Conservative website called the opening of the school "great news."
"How often do you see rich and successful celebrities doing such good? What a gift LeBron James has given to his hometown," Dreher wrote.
"Last weekend, I was talking with a couple of folks who are professionally involved in classical Christian education. In our conversation, I said that it seems to me that a Benedict Option-style school would need to break down the barriers between school and family, and would involve the entire family in the mission in a direct way," he reflected on how the strategy can be elsewhere applied.
"Classical Christian education would be about forming the whole family in effective Christian discipleship. There has to be a way of doing this without usurping the role of the church," he mused.
Christian hip-hop artist and activist Common also praised the NBA star.
"Congrats to my Brother @KingJames on the opening of his #IPromise School in his hometown of Akron. The look on this boys face as he enters the school says it all. Love," he said on Twitter, sharing a clip of a young child at the school.
James has talked about his faith in Jesus Christ on a number of occasions during his basketball career.