'Left Behind' Fans Question Nicolas Cage's Faith, Wonder About Actual Rapture Before Film's Release
Christians Ask Producer About 2014 Version Based on Popular End-Times Book Series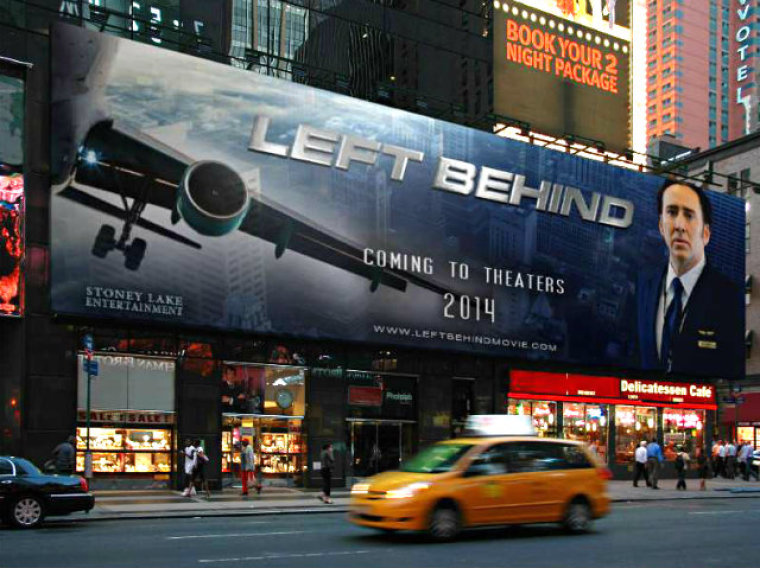 A "Left Behind" producer and writer recently took on questions from fans of the upcoming end-times film and went on the defensive when he was asked if members of the cast, including lead actor Nicolas Cage, were "believers." Some fans also expressed concern that an actual rapture could take place before the film's 2014 release.
"Left Behind," a remake of the 2002 movie of the same name headlined by Kirk Cameron, unfolds during the immediate aftermath of the sudden vanishing of millions of people from Earth. According to the book series, and many Christians, this rapture of believers occurs at the Second Coming of Jesus Christ.
Cage, born Nicholas Kim Coppola, plays the lead role of pilot Rayford Steele in the apocalyptic film based on the bestselling book series by Tim LaHaye and Jerry B. Jenkins. The award-winning actor has been notoriously tight-lipped about his religious faith, although there is speculation that he is a Roman Catholic.
Despinte fans' curiosity, the "Leaving Las Vegas" and "Ghost Rider" star's faith is between him and God, according to "Left Behind" 2014 producer and writer Paul Lalonde, who also worked on the previous movie adaptations of the book series.
"How do you know that?" Lalonde questioned when a fan stated during a Facebook Q&A on Sunday that Cage was "not a believer," and wondered why he had been cast in the movie.
"I have said before that MANY Christians I know do not have 'I Love Jesus' bumper stickers and especially in the entertainment world, there are a lot of Christian actors who have chosen to keep their personal faith a private matter," Lalonde continued. "So while you may wish that someone was vocal about their faith, we should be careful declaring who is a believer and who is not. That is between them and God."
The producer added, "You live your Christian lives as you see fit and let others do the same."
The question about Cage being a "believer" came just a week after another apparent fan of the upcoming movie claimed on the social network that the Hollywood star was a Scientologist and the film would be "a big deception."
The official moderator of the "Left Behind" Facebook page insisted that Cage was not a Scientologist and that it would not affect the film if he did belong to the controversial religion, regarded by many as a cult.
"He's not making this movie, he's acting in it. Please do a little more fact checking," the moderator wrote.
During the recent Q&A. Lalonde was also asked by another fan if there had been difficulties finding actors to take part in the film, and whether its cast members were Christians, or if the project was "just another job" for them.
"It was hard REACHING actors — many agents did not want to share a faith-based script with their clients and that was the biggest challenge," Lalonde responded. "Of those who actually saw the script though, I don't think more than one or two actually turned it down for it's Christian content. Some of the actors are believers. Some are evangelical and outspoken believers and others are believers in their private but not public lives. I will leave it up to them to decide what they share with their fans."
Other actors starring in "Left Behind" include Chad Michael Murray (Buck Williams), Lea Thompson (Irene Steele), Nicky Whelan (Hattie Durham), and Cassi Thomson (Chloe Steele). "The Blind Side" actor Quinton Aaron, "American Idol" winner Jordin Sparks and track star and bobsledder Lolo Jones also make appearances in the movie.
Another issue among Left Behind's fans was whether the film would be "theologically sound" and reflect "biblical truth."
"I guess that depends on who you ask," wrote Lalonde. "This movie, by definition, is based on a pre-tribulation rapture. There are those who would disagree with that interpretation of scripture."
The producer, who also revealed that there would be a follow-up to Left Behind and perhaps even a TV series, not under his control, asked that fans refrain from turning the Q&A session into a "giant debate on theology."
"There is no 'twist' on the truth — saying the vanishings were due to an alien attack or anything like that…" he added. "Remember, this movie is about the day of the rapture."
Another apparent concern among some of those anticipating the 2014 release of the film was whether the actual rapture, the spiriting of Christians from Earth before the world's cataclysmic end (read about the theories here), might occur before the film hits theaters.
"If we get raptured before this is released, well, I'd be ecstatic, but I'd be really upset for not getting to see this movie!!!!!!!!" wrote one excited fan.
"Left Behind," directed by Vic Armstrong and written by Lalonde and John Patus, was produced by Stoney Lake Entertainment and will reportedly be distributed in the U.S. by Samuel Goldwyn Films. The movie, shot in Baton Rouge, La., remains in post-production.