Lenovo Yoga Tab 3 (8 Inch) Release Date, Specs News: Arrives in India, Features 8MP Camera, Metal Kickstand, 20 Hours of Battery Life
Lenovo Yoga Tab 3 (8 Inch) Release Date, Specs News: Arrives in India, Features 8MP Camera, Metal Kickstand, 20 Hours of Battery Life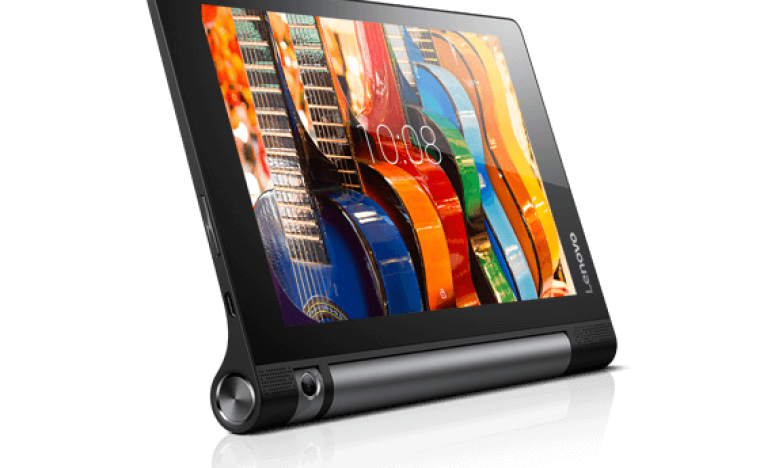 Lenovo just recently launched their third generation tablet from the Yoga Android family in India. Dubbed as the Yoga Tab 3 (8 inch), the tablet was first introduced last month during the IFA trade show. It is currently priced at Rs 16,999 and was unveiled alongside Lenovo's other product device, the Tab 2 A7-20.
According to Tech 2, the device features an 8-inch IPS screen as its name suggests, which comes along with an HD (1280 x 800) pixels resolution. The device has a quad-core Qualcomm Snapdragon 210 processor that is clocked at 1.3GHz. It carries the operating system Android 5.1 Lollipop out-of-the-box and is equipped with 1GB of RAM and Adreno 304 GPU.
It has an internal storage capacity of 16GB which is expandable to up to 128GB via microSD card. In Geek Dad's review, the Yoga Tab 3 is designed with a cylinder along the side or bottom/top. It functions as a handhold and it's where the audio jack, power button, speakers, swivel camera, battery and metal kickstand with a wide range of motion are located.
The camera is 8-megapixel with a 180-degree auto focus rotational camera while the battery is a 6200mAh Li-ion, which is claimed to offer up to 20 hours of usage and 95 days of standby time. The Indian Express noted that Lenovo calls Yoga Tab 3 as the "ideal video tablet." It then states that a lot of people usually use their tablets at their home and a big chunk of it goes to media consumption.
The tablet also comes with Any Pen and through this technology, users are allowed to utilize any conductive material as a stylus. The tech company shared that they made use of a different type of glass in order to make the feature possible.
Connectivity options include Wi Fi, Bluetooth, GPS, and infrared. The Yoga Tab 3 is also furnished with accelo-meter sensor. It is now available in the market with an equivalent price of approximately $292.