Lesbian Mom Has 8-Year-Old Tell Bachmann 'Mommy Doesn't Need Fixing'
Republican presidential candidate Michele Bachmann was at the receiving end of a pro-gay message when a South Carolina mother used her 8-year-old son to deliver the statement to the Minnesota congresswoman. "My mommy's gay, but she doesn't need fixing," whispered the shy and soft-spoken boy.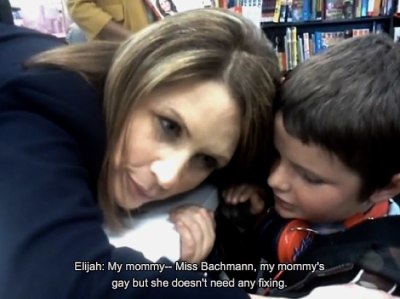 The brief encounter occurred at a South Carolina book signing Bachmann attended last week and has generated controversy and outrage regarding how the little boy was used by his gay mom to convey the message that many believe young children should not be exposed to.
"What's your name? Elijah? It's really good to meet you," Bachmann said to the little boy as she struggled to hear his response.
"Do you have something you need to say?" asked the mother as she pushed the young boy toward Bachmann.
The little boy then said something that Bachmann could not understand. "I'm sorry, I couldn't hear him," Bachman said as she smiled and looked at the woman.
"You can say it louder, go ahead," the mother said as she further encouraged the child.
"That's alright, you can come a little closer," said Bachmann as she leaned over the table to engage the boy. "You said something but I think my ears were too far away. You can come closer."
"My mommy's gay but she doesn't need fixing," the little boy quietly said as he whispered in Bachmann's ear.
The congresswoman immediately looked up at the woman as the boy was whisked away. Bachmann simply smiled, told the boy good-bye and sat down.
8 Year Old boy Tells Bachmann "Mommy Doesn't Need Fixing"
On a YouTube posting on Sunday, the woman who used the little boy to deliver her message posted the following comment:
"Video of Michele Bachmann trying to get her photo op in with my 8 year old son. It's hard to hear but he leans in and tells her that his mom is gay and she doesn't need fixing. GO ELIJAH! Love that look of shock she gets. 
We were there for an Occupy Myrtle Beach event to mic check Michele Bachmann on another issue. The lgbt issue came up separately. #Occupymb."
"I definitely think Bachmann's views on homosexuality are wrong but it seems pretty obvious that the child was encouraged to do this despite feeling uncomfortable," posted a viewer using the name grebeljam on You Tube. "Seems very very contrived...I personally wouldn't put my child in such a position."
The woman who videotaped the encounter told Chicago Now that the boy was the one who wanted to approach Bachmann.
"His mom was going to say something to her, but she got nervous and told me she wanted to leave. We were about to step out of line but Elijah cried out, "Nooo!" He grabbed onto her coat and pulled her back in the line, saying he wanted to talk to her," said the woman who videotaped the encounter and would identify herself only as Jennifer.
Presidential candidates are routinely confronted by activists on the trail – even having glitter thrown on them by homosexual activists – but many people, including those who are gay believe that using children to advance a cause is inappropriate.
John Smid knows all too well how gay activists make their point. As the former director of Love in Action, Smid has dealt with his share of protesters. What makes him unique though, is he spent six years in a same-sex relationship and is now the director of Grace Rivers Ministry in Memphis, Tenn.
"Well, suffice it to say, this is a volatile issue that I don't think is appropriate for a child to be engaged in," said Smid. "Until a child reaches adulthood – at least in their early twenties – should someone be asked to deliver an opinion that is not their own. Suffice it to say, the adults in their life heavily influence an 8-year-old's opinion. There are many other ways a message could be conveyed without involving children."