Liberals Want the Right to Persecute Christians Over Indiana's Religious Freedom Act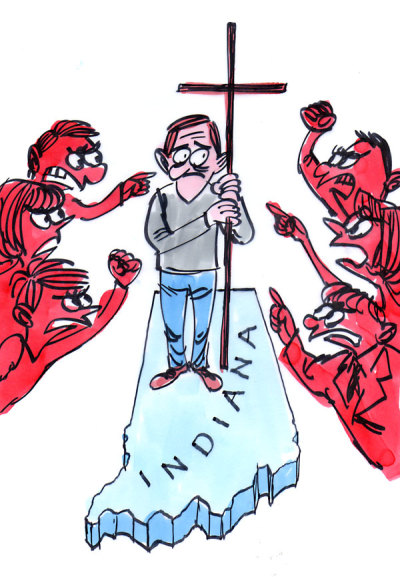 Christians are the world's most persecuted faith according to a recent study by the Pew Research Center, but you don't have to look across the ocean to find the latest and, given America's foundation of religious freedom, one of the most egregious examples of the economic persecution of Christians – it is happening in Indiana USA right now.
An assortment of radical leftwing groups and liberal corporate interests have declared war on Christians and other persons of faith and are threatening Indiana's conservative Governor Mike Pence with an economic boycott over the passage of the state's "Religious Freedom Restoration Act."
The Religious Freedom Restoration Act would protect believers like Jack Phillips, the baker-owner of Masterpiece Cake Shop in Lakewood, Colorado refused to bake a wedding cake for a same-sex couple and has been driven out of business by the Colorado Civil Rights Commission.
It would protect New Mexico photographer Elaine Huguenin who was likewise persecuted for refusing to participate in a same-sex wedding.
It would protect Aaron and Melissa Klein who own and operate Sweet Cakes by Melissa in Portland, Oregon and found themselves the target of a lesbian couple who filed a complaint with the state, accusing the shop owners of discrimination because they refused to participate in the couple's same-sex wedding by baking them a wedding cake.
And it would protect 70-year-old Barronelle Stutzman, the owner of Arlene's Flowers in Richland, Washington, who was found guilty of violating the Washington's non-discrimination law in February, after referring a same-sex couple to another florist when they asked her to provide the floral arrangements for their wedding.
In an order making her a judicial slave, Benton County Superior Court Judge Alex Ekstrom's summary judgement orders Stutzman to pay a fine of $1,001, and forces her to provide services for same-sex weddings. Stutzman is at risk of losing her retirement savings and business as she will be responsible for paying the legal fees and damages incurred by her persecutors, who were represented by the ACLU.
And it would protect any other believer who expressed a belief in Christian values and wish to live them publicly.
Led by the NCAA, San Francisco-based Salesforce, Angie's List, the NBA, the WNBA, the Indiana Pacers, the Indiana Fever, and supported by corporate giants such as Apple CEO Tim Cook and a variety of Hollywood figures, they are gearing-up to begin a boycott of Indiana because believers in the Constitution and its protection of the freedom of religion stood their ground against the steady erosion of their ability to live their faith in their daily lives.
But no one would seriously expect that the government could force one of the Hollywood stars opposing Indiana's "Religious Freedom Restoration Act" to play an opponent of same-sex marriage in a movie, or that government could force one of the pop stars now boycotting Indiana to write a song opposing same-sex marriage, or that the government would fine an atheist artist for refusing to paint a religious painting if the commission was offered.
The demand that bakers, photographers, florists and others actively participate in same-sex weddings represents a new and frightening chapter in the Left's war on Christians because there is a fundamental difference between merely selling, cookies, cakes, brownies and other goods to homosexuals, which all are willing to do, and using your creative energies and talent in the service of something that violates your Christian beliefs.
In findings worthy of the infamous Chief Justice of the United States Supreme Court Roger B. Taney, who crafted the Dred Scott decision declaring that African slaves were property, not human beings, across America low-level judges, civil rights commissions and other instruments of state power are making judicial slaves of every Christian who wishes to practice their beliefs in their everyday life as the Bible commands.
What's next, Muslims and Jews being forced to serve pork at a same-sex wedding, Hindus forced to kill cows to provide beef?
Liberals never seem to grasp that the Framers of the Constitution drafted it to protect the freedoms of speech and of religion for a reason. They wanted to create a new nation where men and women of faith wouldn't have to make the choice between closing down their business and closing down their beliefs – where tyrants couldn't destroy a person for his faith – and where anyone would be free to practice his faith in his everyday life as the tenets of his faith command.
All people of faith have an interest in supporting Governor Mike Pence of Indiana and encouraging him to resist any changes or repeal of Indiana's Religious Freedom Restoration Act. We urge you to call Governor Pence (317-232-4567), Indiana State Senate President Pro Tempore David Long (317) 232-9400 and Indiana House Speaker Brian Bosma (317) 232-9600 and tell them to stand fast in the fight to protect the religious liberty of all Americans.
To send an unmistakable message that you support religious liberty please click here to sign our petition to Governor Pence, State Senate President Pro Tempore Long and Indiana House Speaker Brian Bosma, tell them no retreat on religious freedom and not to bend to the radical homosexual agenda.