Lolo Jones, Jordin Sparks and 'The Blind Side' Star Quinton Aaron Join Nicolas Cage in 'Left Behind'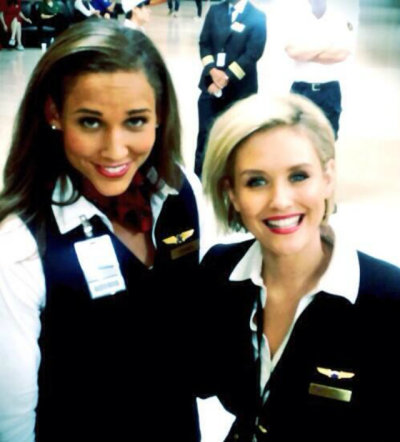 Track star and U.S. bobsledder Lolo Jones is the latest addition to the growing cast of the new "Left Behind" movie adapted from the fictional end times series made popular several years ago by authors Tim LaHaye and Jerry B. Jenkins.
The disaster movie, much like the original film starring Kirk Cameron as Buck Williams, focuses on a band of survivors who find themselves left behind after the occurrence of the Rapture, or the spiriting away of Christians to heaven. The plot is based on the first book of the same title in LaHaye's and Jenkins' 16-part series.
Jones tweeted a photo of herself on the set and shared with fans how she nearly lost it when she sat next to Nicolas Cage, who plays Rayford Steele in the upcoming apocalyptic flick.
"Nicolas Cage sat next to me during makeup and my head bout spun round like Ghost Rider BUT I 'ACTED' cool. Learning this craft fast #LeftBehind," Jones tweeted.
The former Olympian shared that her role was that of a gate attendant named Lola who speaks 10 words — "Really 8. I counted 'Mr. Williams' as (two) words to increase Oscar chances," wrote Jones.
Paul Lalonde, the producer and writer of "Left Behind" (along with John Patus), said that he added Jones to the production upon learning that the bobsledder was training in Baton Rouge, La., where his team had been filming since the beginning of August with director Vic Armstrong.
"Obviously everybody knows who she is," Lalonde told NBC News. "I'm a huge fan of her. I love her never-say-die attitude about everything. … She's a beautiful woman, too, which never hurts when you're casting for a movie."
Actress Cassi Thomson ("Switched at Birth," "Big Love"), who has replaced Ashley Tindsale as Chloe Steele, shared a photo on Intagram of Jones during filming on the "Left Behind" set. The film also stars Chad Michael Murray as Buck Williams and Nicky Whelan as Hattie Durham.
In addition to Lolo Jones, popular recording artist Jordin Sparks and Quinton Aaron of the award-winning "The Blind Side" were expected to make appearances in the highly-anticipated film.
Aaron's character is named Simon, a cameraman on a flight to London that sees nearly half of its passengers get "raptured."
Sparks, first discovered when she won the 2007 "American Idol" competition, plays a character named Shasta, according to her introduction on the "Left Behind" Facebook page.
"'Left Behind' producer Lalonde will say that 'she will be a passenger on a plane that the film's main character Captain Rayford Steele (Nicolas Cage) is piloting,'" according to the production update.
Filming for "Left Behind" began earlier this month and was reportedly expected to run through September. The film is slated for a May 2014 theatrical release through Samuel Goldwyn Films, the independent distribution company behind films like "Fireproof" and "Facing the Giants."
Lalonde, CEO of Stoney Lake Entertainment and co-founder of Cloud Ten Pictures, which produced and distributed the first three "Left Behind" movie adaptations, previously told The Christian Post that he was rebooting the film to give it the blockbuster treatment many fans had felt the original version deserved.
"... I've spent 24 years producing Christian-themed TV, films and documentaries that were made specifically for a Christian audience. Preaching to the choir so to speak," said Lalonde via email. "It has always been my goal to produce a big-budget version of 'Left Behind' that would appeal to a wider audience. The resources to do this exist now where they didn't back in 2000."
Below is the current version of the movie poster for "Left Behind," courtesy of Stoney Lake Entertainment.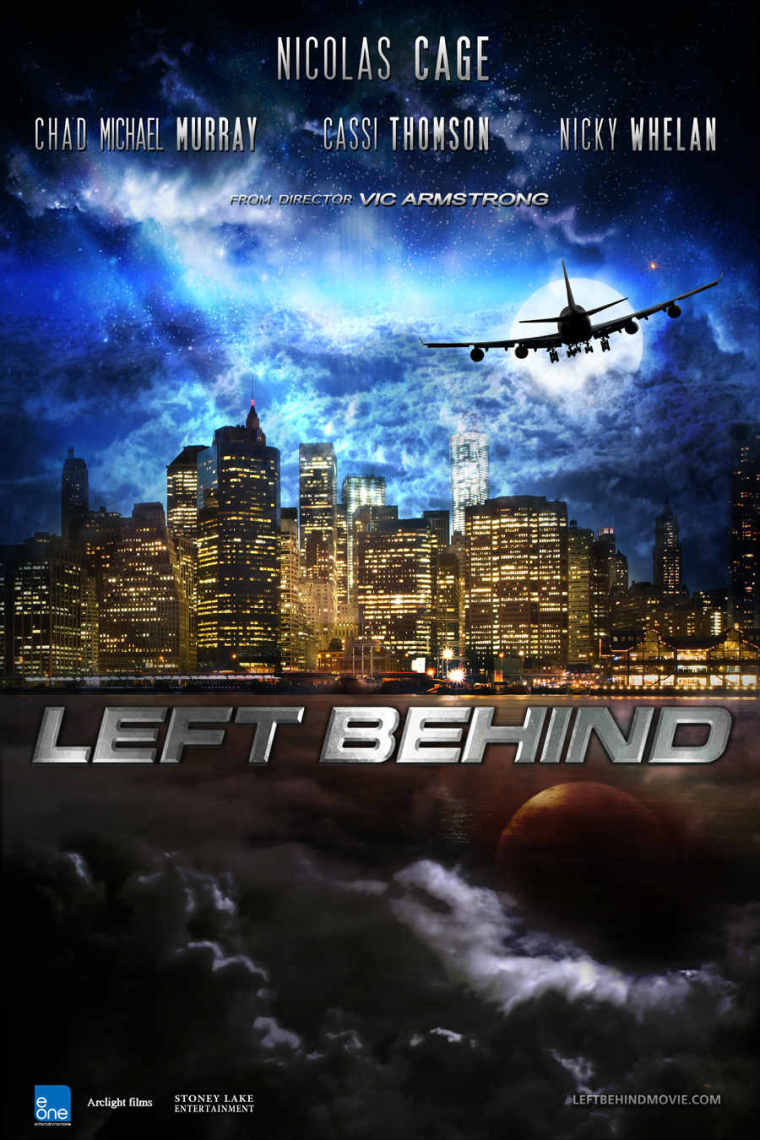 Here is a previous version of the "Left Behind" movie poster, before Tisdale was dropped from the cast.