'Lord During My Darkest Hour I Lean On You,' Says Trayvon Martin's Mother, Sybrina Fulton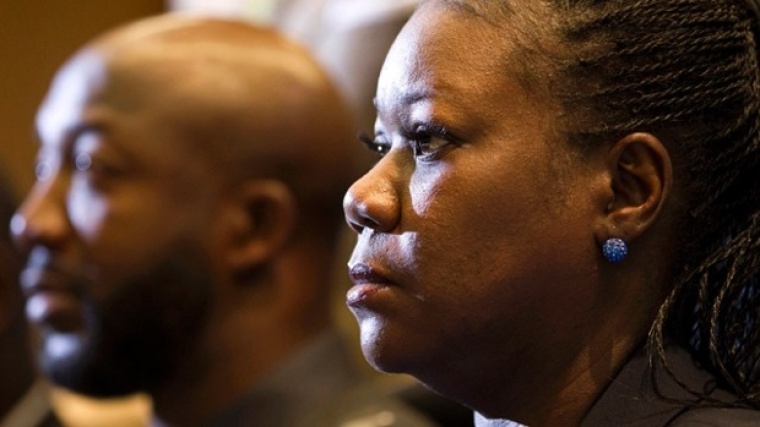 Only God could bear the grief that moved through Trayvon Martin's mother, Sybrina Fulton, when the not guilty verdict was handed down by a jury of six women on Saturday that let the man, George Zimmerman, who killed her son go free. So shortly after the verdict, she cried out to Him.
"Lord during my darkest hour I lean on you. You are all that I have. At the end of the day, GOD is still in control. Thank you all for your prayers and support. I will love you forever Trayvon!!! In the name of Jesus!!!," she tweeted shortly after the verdict had been handed down.
Shortly before that, the teen's father, Tracy Martin, also tweeted his disappointed with the verdict, but like his ex-wife, left the matter in the hands of God while thanking the public for their support.
"God blessed Me & Sybrina with Tray and even in his death I know my baby proud of the FIGHT we along with all of you put u," tweeted Martin. "Thanks to everyone who are with us and who will be with us si (sic) we together can make sure that this doesn't happen again. Even though I am broken-hearted my faith is unshattered I WILL ALWAYS LOVE MY BABY TRAY."
Although she was expected to worship at her home church, Antioch Missionary Baptist in Miami Gardens where Trayvon Martin's funeral was held, Fulton did not show up on Sunday. Instead, she sent a message to her church family through Pastor Arthur Jackson III who told CBS 12 News that the verdict was difficult to swallow.
"Our church our community is extremely disappointed. We're heartbroken over the verdict, of course we respect it but we don't understand it," said Jackson III.
Regarding Fulton's message, he said: "She wanted me to let the church and all the media outlets know that she's still trusting in God. Even though she couldn't trust in the legal system she's trusting in the Lord not being able to trust the courts she's trusting Christ."
As for how the church will respond to the unfavorable verdict, Jackson III noted: "We are arming ourselves but our weapons are not carnal. We are arming ourselves with prayer. We are putting on the whole armor of God. We are putting on the helmet of Salvation, we are making sure that we are turning it over to God."
Standing in solidarity with the Trayvon Martin family on Sunday, a number of churches across the nation declared the day 'Hoodie Sunday' in honor of the slain teenager.
"We have to hold the nation accountable but we also have to hold accountable the people who are shaping culture and shaping the atmosphere in which a young man could be dehumanized," said Reverend Tony Lee of the Community of Hope A.M.E. Church in Temple Hills, Md., who delivered his sermon in a hooded sweatshirt on Sunday.
"I don't want this kind of stuff to happen to another one of our children," he said.
The National Black Church Initiative (NBCI), which represents 34,000 black churches, staged a rally at noon on Monday in front of the Justice Department headquarters in Washington, D.C. to protest the verdict of George Zimmerman's murder trial according to the Associated Press.