Louie Giglio Attends 'The Voice' Finale Alongside 'The Bible' Producer Mark Burnett
The fourth season finale of "The Voice" took place last night in Los Angeles with Passion movement founder Louie Giglio in attendance. Giglio took to Instagram to post a photo of him, his wife, Shelley, as well as "The Voice" producer Mark Burnett, and his wife, Roma Downey, on the set of the show.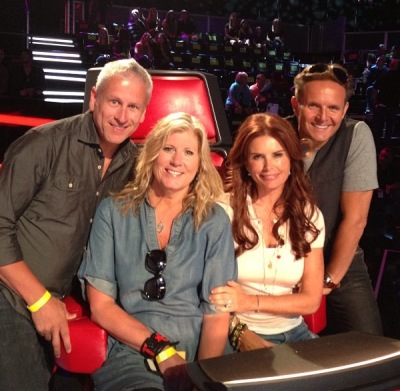 Burnett and Downey, who co-produced the mega-hit miniseries "The Bible" on The History Channel earlier this year, are well known to be connected to Christian leaders. Downey told The Christian Post on Tuesday, "Louie and Shelley are good friends of ours and fans of the show! It was a really fun night with such amazing performances…'The Voice' really is great entertainment for all the family."
Last night was the first part of the finale frenzy showcasing the best of the remaining three contestants: Danielle Bradbery, Michelle Chamuel and Christian duo, the Swon Brothers. All of them will hit the stage for their final performance and "The Voice" season four winner will be announced tonight.
The Swon brothers, who were taken under Blake Shelton's wings, hail from Muskogee, Okla., and were raised by Christian parents and are no strangers to performing as they did so at several churches while growing up. In the past, "The Voice" has had a number of Christian contestants aside from the Swon Brothers, including megachurch pastor Dr. Tony Evans's son, Anthony Evans. He was chosen to be on Christina Aguilera's team during the show's third season. But along with his shot at stardom came backlash from supporters confused about him attempting to go secular. However, with six albums under his belt as a Christian recording artist and worship leader, his big break had already come before becoming a contestant on the show.
Tonight's star-studded live finale will begin at 9 p.m. EST on NBC.
Related video: The Swon Brothers - Danny s Song - The Voice Semi Final