'Love & Hip Hop' Reunion Show Recap (VIDEO)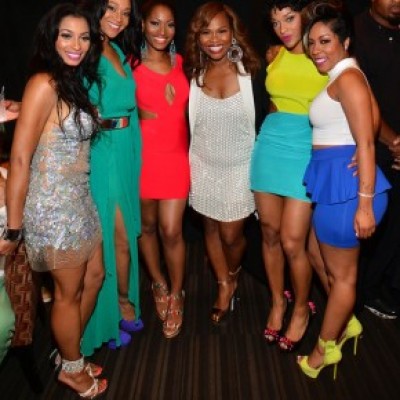 On Monday night's "Love & Hip Hop Atlanta" reunion show special, viewers saw the vast majority of cast members engaged in heated feuds over recurring drama.
Joseline Hernandez, Mimi Faust and Steven "Stevie J" Jordan spoke candidly about their infamous love triangle; Kimberly "K. Michelle" Pate squared off against both Rasheeda Buckner and Karlie Redd; and Lil Scrappy, whose real name is Darryl Kevin Richardson II, was joined on stage by his mother Momma Dee and his baby mama Erica Dixon as all three answered questions about an altercation involving Joseline and Stevie.
The show was hosted by one of its producers, Mona Scott-Young, who was direct in asking key questions- particularly during her discussion with Stevie, Joseline and Mimi.
Stevie, who spent much of season one juggling two relationships with Joseline and Mimi, was asked how he feels about hurting Mimi, the mother of his child.
"It really touches me when I feel the hurt from her I dont wanna see that hurt, I dont like to see that ... I love Mimi she knows that," Stevie said. When asked whether he is in love with Mimi he explained "we're working back at that."
Despite receiving constant jeers from the audience, Stevie kept his composure unlike Joseline, who at one point lashed out at the crowd.
The former stripper-turned-singer explained her decision to have an abortion after she discovered that she was carrying Stevie's child, but insisted that she is a "woman of God," to which she received audience jeers.
"Yes I am a woman of God, so f--- ya'll that don't believe it! God knows my heart," Joseline shouted at the crowd.
Earlier in the show, Rasheeda, who has publicly dismissed K. Michelle's domestic abuse claims on several occasions, was seen hurling insults back and forth at the 26-year-old. At one point Rasheeda stood up out of her seat and approached K. Michelle and the bickering threatened to turn violent until security escorted her off the stage.
Lil Scrappy spent a great deal of time arguing with Stevie over their infamous brawl, and at one point boasted about beating him.
"I put them paws on him cuz ... I was heated at the time," Scrappy said. Stevie denied that anyone put their hands on him, which further fueled their argument.
Karlie, whose age has become a hot topic among viewers of the hit Vh1 reality TV show, refused to reveal how old she is.
"Look, I'm beautiful, I'm young. I'm talented. I never tell my age," she said.
The show ended by showing juicy snippets from part two of the reunion show, which will likely also feature discussions with other cast members including Karlie's love interest, Benzino, and Rasheeda's husband, Kirk.
Regrets - Cast Interviews with Love & Hip_hop
Relationship with Stevie J - Love & Hip Hop