Macbook Air 2016: When is it going to be released?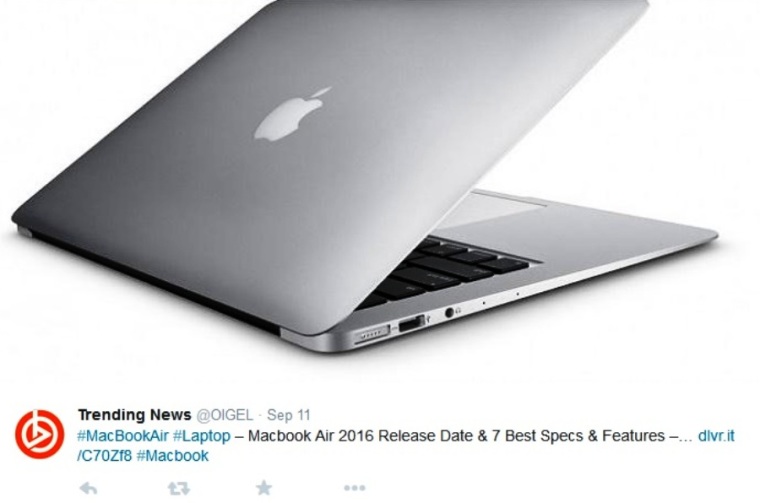 Apple fans are on the constant lookout for updates regarding the MacBook Air 2016. As of the moment, they are just merely relying on both baseless and constructive rumors as they wait for confirmations from the Cupertino tech giant itself. Their biggest question is about its release date and when they can possibly get their hands on it.
Apparently, a reveal did not take place during the Sept. 9 event. But according to the report of Latino Post, a rumor about Apple planning on making an early launch of the product has emerged. The latest MacBook Air was earlier expected to be made known in the first quarter of next year. But hearsays are making a commotion by saying that the 2016 MacBook Air might arrive as early as two weeks from now. This means that by October, people will be able to take a first peek of what Apple has been fabricating for the last couple of months.
However, it's safer to not yet dismiss previous reports including the one from Neurogadget which said that the MacBook Air 2016 may only begin to reach stores once MacBook stocks begin to dwindle. Yibada also noted that one sign that will tell a new product is coming very soon is when Apple begins to sell their earlier products with big discounts.The source said that up to $600 discount were offered to MacBook Pro with Retina display.
Whichever release date rumor is true, fans can only hope that the speculated features of the MacBook Air 2016 will push through. It has been reported that the computer will come with the latest Skylake-U processor as well as the new GeForce GTX 950 Nvidia GPU. These specifications will make the laptop perfect for gaming with enhanced performance and even extended battery life. It is also expected to boast a Retina display, Force touch technology, USB Type-C port and maybe even run with the upcoming new OS X El Capitan.