Majority of California Latinos Do Not Think Marijuana Possession Should Lead to Deportation, According to Poll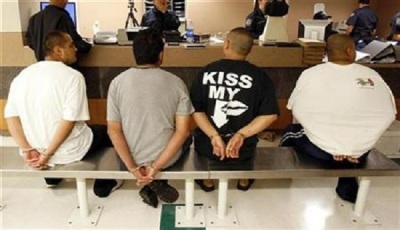 LOS ANGELES — A majority of California Latinos do not see marijuana possession or non-violent drug possession of any kind as a legitimate cause for deportation, according to a poll released by Latino Decisions and Presente.org Friday.
"Latinos believe that the war on drugs is a failure and that our sentencing system is broken," said Arturo Carmona, executive director of Presente.org. "Families shouldn't be torn apart over marijuana possession."
Carmona adds, "It's time to enact common sense policies and stop wasting money over minor marijuana possession charges. It's time to stop allowing the justice system to prey on America's most vulnerable residents. We need reasonable and responsible drug sentencing reform that ends the war on communities of color."
The pollsters point out that with state laws quickly changing around marijuana legalization and decriminalization, so too are Latino communities' views on marijuana and its role in our deportation and immigration systems.
Key findings from the new poll:
• Nearly two thirds of Latinos (64 percent) in California disagree that someone should be deported for a small amounts of marijuana.
• When asked more generally about drug possession, 60 percent of Latinos in California disagree that immigrants should be deported for non-violent drug possession of any kind.
Latinos and African-Americans are incarcerated in higher numbers than any other group for drug possession, despite using drugs at lower rates than white Americans, according to the Latino research and activist groups that released the poll. "A lesser known effect of the drug war, however, is its impact on immigrants. Deportation policies tear undocumented families apart for marijuana possession," they state.
Evangelical leader the Rev. Samuel Rodriguez, president and CEO of the merged National Hispanic Christian Leadership Conference and Conela (NHCLC/Conela) agrees with the poll organizers' sentiment; however, he makes the distinction in regard to serious crimes and his opposition to the general legalization of pot.
"Latinos and all undocumented individuals engaged in serious crimes should be deported and disqualified from legalization opportunities once reform passes. The possession of marijuana does not qualify as a serious crime," Rodriguez told The Christian Post. "Although I do not favor the legalization of marijuana, I am likewise opposed to laws that incarcerate young men and women in a disproportionate rate for possession."
Matt Barreto, principal at Latino Decisions, said the poll of Latinos makes it clear that both the U.S. immigration policy and drug policy are in need of serious reform.
"A clear majority of Latinos oppose deportation for minor drug infractions — especially as the legalization of medicinal and recreational marijuana becomes more popular at the state level," Barreto said.
Latino Decisions and Presente.org state that not long ago, conventional wisdom held that Latinos displayed more conservative views on drug laws, but the poll reveals that "the disproportionate impact of drug laws on Latinos changed their minds on the issue."
"The findings of the poll demonstrate that the Latino community is in favor of halting the deportations of non-violent offenders for minor drug offenses and ending the irresponsible misallocation of resources that compromises public safety," said Armando Gudino from the Drug Policy Alliance. "Latinos have the potential and — as the poll demonstrates — the disposition to play a pivotal role in the transformation of the criminal justice system and the promotion of responsible immigration reform."
See the poll here: California Latino Attitudes Toward Drug Possession and Deportation