Man in Pope Francis Exorcism Story Says He's Still Possessed by Demons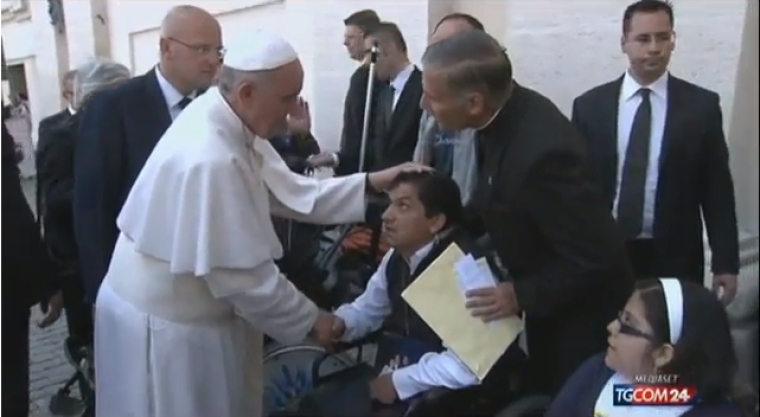 The wheelchair-bound man that Pope Francis blessed in a controversial prayer many billed as a public exorcism earlier this month in St. Peter's Square, says the demons are still inside him.
Identified in a recent report only as Angel V., the 43-year-old Mexican father of two reportedly told Spanish-language newspaper El Mundo that the demons have withstood 30 exorcism attempts by 10 exorcists, including the Vatican's leading exorcist, Rev. Gabriel Amorth, who claims to have sent 160,000 demons to hell.
"I still have the demons inside me, they have not gone away," said Angel, while admitting that he is now able to walk since Pope Francis prayed over him on May 19 at the end of Mass.
The Vatican has maintained throughout media reports that the Pope did not perform an exorcism, which is the act of "casting out" evil spirits. What he did to Angel V., was the biblical practice of "laying on of hands" to convey blessings.
Angel V. lives in the Mexican state of Michoacán and is married. He claims to have been possessed by demons since 1999.
Popular Mexican priest, the Rev. Juan Rivas, who was with Angel V. in Rome when he met the Pope, confirmed in the El Mundo interview that he indeed underwent 30 exorcisms, but "the demons that live in him do not want to leave him."
A member of the Legionaries of Christ, Rivas recalled how Angel kissed the Pope's ring and fell into a trance instantly.
"The Pope then laid his hands on his head and at that moment a terrible sound was heard (from him), like the roar of a lion," said Rivas. "All those who were there heard it perfectly well. The Pope for sure heard it [but] he continued with his prayer, as if he had faced similar situations before."
Angel V. explained in the interview that the demons first took possession of him while he was on a bus in Mexico in 1999.
"I did not see it with my eyes, but I perceived it," he recalled. "I noted that it came close to me, and then stopped in front of me. Then, suddenly, I noted that something like a stake pierced my chest and, little by little, I had the sensation that it was opening my ribs," he said. It was like a heart attack, he explained. He thought he would have died.
His quality of life began deteriorating after that. "I could not sleep, and when I managed to sleep I had terrible nightmares connected with the evil one," he said. He started falling into trances during which he blasphemed, and spoke in unknown languages.
Both medical doctors and priests have failed to help him. He now lives in fear and feels "very dirty at the thought that there was an evildoer within me." He explained that some of his siblings thought he was mentally unstable.
The possession has also caused him to lose ownership of a publicity company and forced the sale of real estate.
He said during his suffering one night, he dreamt about Pope Francis. When he woke up and turned on his TV he saw the Pope celebrating mass and it sparked the idea that he should go to Rome.
Chief Vatican exorcist, Amorth, argues that Angel is undoubtedly possessed but his possession comes with a message from God on Mexico's abortion laws.
"Not only is he possessed, but the devil who lives in him finds himself obliged by God to transmit a message," said Amorth.
"Angel is a good man. He has been chosen by the Lord to give a message to the Mexican clergy and to tell the bishops that they have to do an act of reparation for the law on abortion that was approved in Mexico City in 2007, which was an insult to the Virgin," said Amorth. "Until they . . . do this, Angel will not be liberated."