Man Killed for Winter Olympic Ring Malfunction at Sochi Opening Ceremony? Thousands on Social Media Spread Rumor of Dead Technician in Russia - But Is It True? (VIDEO)
Social media rumors have claimed that the man responsible for the 2014 Winter Olympic ring failing to open at the Sochi Opening Ceremony has been found dead. The rumors quickly spiraled out of control on social media sites Facebook and Twitter over the weekend, however, the rumors now appear to have been proven completely false.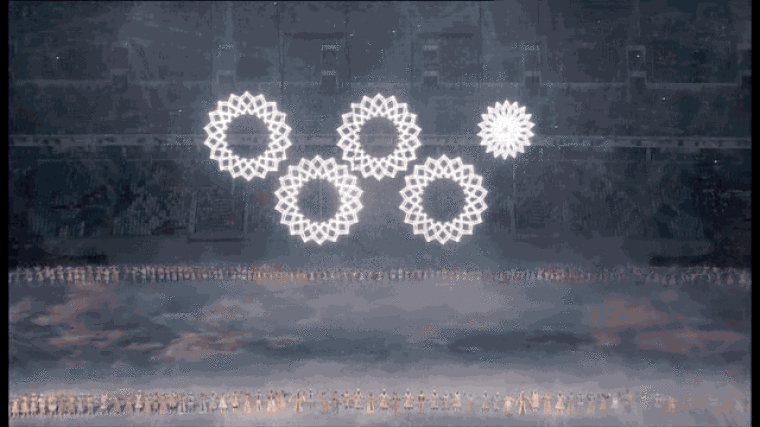 Rumors spread over the weekend that technical specialist T. Borris Avdeyev, who was allegedly responsible for the 5th Olympic ring opening up in lights at the Winter Olympic Games opening ceremony, had been found dead at his Sochi hotel room after being stabbed multiple times.
It now appears as the rumors were a death hoax sparked by The Daily Currant website – which is in fact a satirical website that is known to write false news items based on real life news stories.
Over past months the website has been known for a number of elaborate hoax stories that some readers took to be true, including a story about 39 people dying from marijuana overdose, and President Barack Obama opening up a free "Obamastation" to provide free gas to drivers in poor neighborhoods.
In their latest satirical report the Daily Surrant wrote about the technician behind the failed Olympic ring opening being murdered for his mistake. The website wrote: "The man responsible for operating the Olympic Rings during last night's Winter Olympic Opening Ceremonies in Russia was found dead today. According to local reports the body of T. Borris Avdeyev was found his hotel room early this morning with multiple stab wounds.
"Avdeyev was a technical specialist responsible for the Olympic Ring spectacle, which embarrassingly malfunctioned last night. Five animatronic snowflakes were supposed to transform into Olympic Rings. The first four functioned properly but the fifth snowflake failed to change shape.
"Although his body was badly mangled and the wounds were consistent with a struggle, so far officials say they don't suspect foul play."
The story then goes on to describe a type of cover-up by Russian authorities, saying that investigators were announcing the death to be an accident, saying he just "tripped and fell into a set of knives."
"It's terrible when accidents like this happen. But then again, maybe Mr. Avdeyev should have thought twice before he screwed up the Olympics. Accidents tend to happen to people who betray Russia," a police officer reports in the hoax.
Within hours the story had more than 20,000 Shares on Facebook and Twitter, many of whom were fooled into believing the story was true.