Man Returns Thomas Kinkade Jesus Statue After Stealing It 2 Years Ago, Asks for Forgiveness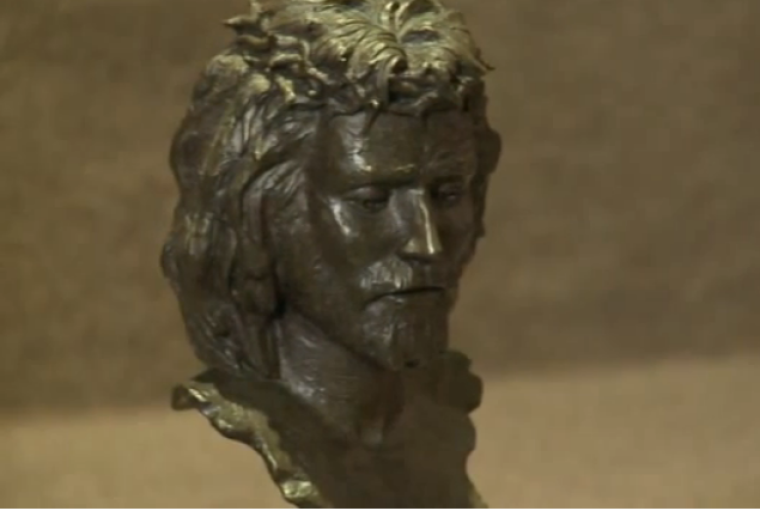 A recovering drug addict in Indiana returned a large sculpture of Jesus Christ to an art gallery after stealing it nearly two years ago.
The former anonymous addict contacted the Zionsville art gallery in Zionsville, Indiana, to say that he wanted to return the 20-pound sculpture of Jesus Christ, created by the late Thomas Kinkade who only made 30 of the sculptures, after he stole in from the gallery in 2014 while high on methamphetamine.
The recovering addict, who has been in rehab in recent months, told the local CBS 4 news station that he chose to return the sculpture as a way to seek God's forgiveness for his past wrongs.
"I was in full addiction, and I went into the gallery with bad intentions," he told the media outlet, "I just put it in God's hands and a higher power. ... There is help. Just because people are on drugs doesn't mean they aren't good people. I'm just here to share my story."
Barbara Jennings, who owns the gallery, told the media outlet that she met the man at a local restaurant where he returned the statue to her and apologized.
She said she thinks his "courageous" act is evidence that it's never too late to right a wrong.
"No matter what you've done, there's a way to right it," Jennings said. "If he can be an example to one person to do the right thing, what a ripple effect that could be."
This inspirational story is one of many that involves thieves who have attempted to repent for their wrongdoings.
In Sao Paulo, Brazil, in 2012, a thief stole R$ 400 ($196 USD) from a couple's apartment, only to return the money with a note apologizing for his actions.
In the note, the thief explained that he was an evangelical Christian who had seen the sin of his actions and decided to repent and ask for forgiveness.
"I beg your pardon. I did it in a time of despair, because I've been unemployed awhile. I stole it, but I'm returning the money because I know the Gospel and God's laws," the note reportedly read.
In another inspirational story, a thief in Hastings, England, returned a 200-year-old Bible 42 years after he stole it from the Holy Trinity Church.
The anonymous thief had mailed the Bible back to the church with a letter explaining that 42 years earlier, he had stolen it while he and his wife were taking English courses at the church.
The thief admitted in the letter that while he initially stole the Bible with the hopes of improving his English, he never got around to reading it and was haunted with guilt for taking it in the first place.
"This Bible always brought me a guilty conscience. I was too cowardly to hand it over personally. Now I am retired and I make a final impulse to clear my conscience. I deeply regret what I did and can only hope this Bible finds its rightful home again," the letter read.