Manny Pacquiao: Boxing Is Not What My Life Is All About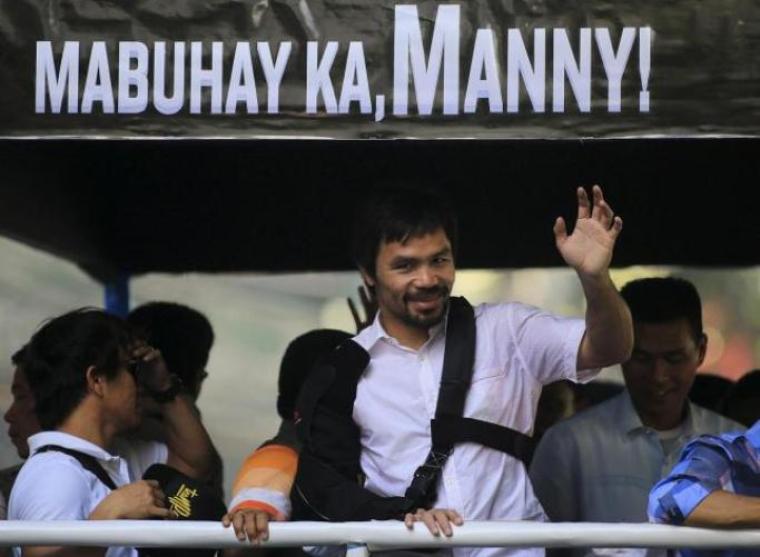 Next April, Manny Pacquiao wants to hang up his boxing gloves in order to step into a ring of a different kind. The Christian sports figure plans to focus his attention on becoming a Filipino Senator.
Pacquiao, the 36-year-old boxing sensation — the only boxer in the history of the sport to win in eight weight classes — is ready to retire from the sport, according to his longtime promoter, Bob Arum.
"We talked very seriously, and he said, 'Bob, hopefully, by the middle of May I will have been elected Senator in the Philippines, and at that point I cannot engage in boxing because I need to focus on the Senate and I have to be in attendance,'" Arum told ESPN. "Manny told me this fight on April 9 will be his last fight."
While Pacquiao currently serves as a congressman for the Sarangani province in the Philippines, he is able to be away from home to focus on boxing and other endeavors. However Arum, the founder and CEO of the renowned boxing promotions company Top Rank, said it is important for Pacquiao to be physically present in the next step of his political journey.
"There are hundreds of congressmen, but if he wins the Senate seat he has to be there to do the work. They do the real work in the Senate in the Philippines, not just make a lot of [expletive] speeches like they do in the Congress," Arum told ESPN. "It's a real job, and if Manny is serious about wanting to be president, these six years in the Senate would be like an audition, and for him to show his people that he really is a serious politician."
Pacquiao is reportedly looking to step into the ring for his last professional fight on April 9 next year, ESPN reports. Arum said he has no ill feelings about Pacquiao leaving, since it means the boxer can put an end to the physical wear and tear on his body and preserve his mental and physical abilities.
"Manny told me this would be his last fight, and I'm not sad about it because he's going on to a political career which will require a lot of mental acuity, so you don't want him to stay in boxing too long," Arum said. "If he stays in boxing a little too long, his mental faculties might be somewhat impaired."
According to ESPN, Pacquiao (57-6-2, 38 KOs) is planning to begin campaigning for one of 24 senatorial seats by the middle of April, since the elections in his country take place in mid-May. For quite some time, the boxer has been working tirelessly to bring change to the Philippines, and was elected to the Philippine House of Representatives at the age of 32.
Earlier this year, Pacquiao told The Christian Post why he is so passionate about engaging in politics in his country.
"I want to provide opportunities for my fellow countrymen that will improve their situations. As a politician, I want to help create jobs so that I can bring them out of their poverty," Pacquiao said to CP. "I want to give them hope. Boxing has been my passion, but public service is my calling."
For Pacquiao, his legacy involves more than boxing.
"I love my boxing, but I realize now that is not what my life is all about. I just want to encourage all those who are a Christian, to share their salvation experience to others," Pacquiao told CP. "I think that we could make an impact in this world. ... The legacy that I want to leave is to be a role model and an inspiration, not only [to] boxing fans, but to everyone around the world."