Manny Pacquiao Next Fight News: Bob Arum narrows down short list to Amir Khan and Terence Crawford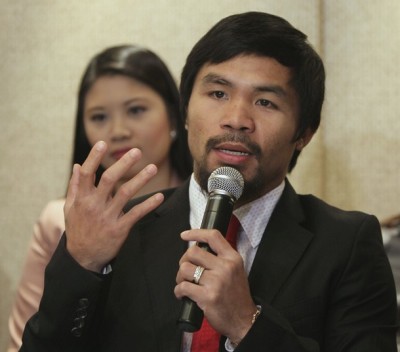 The shortlist for Manny Pacquiao's next possible opponents has been narrowed down to two names.
In a report by Boxingscene.com, Top Rank Promotions head honcho Bob Arum revealed that "Pacman's" next and supposed final fight in 2016 may be against either former sparring partner Amir Khan or current WBO light welterweight champion Terence Crawford.
"Manny told me that his last fight would be held in April 9 next year. His next potential opponent could be anyone between Crawford and Khan."
Initially, other names among the shortlist are that of former title contender Lucas Matthysse, as well as a rematch with Floyd Mayweather. Juan Manuel Marquez's name also floated around for a possible fifth fight, but "El Dinamita's" camp was the one who turned it down.
"Freddie's main choice is a fifth fight with Marquez by the way, but Marquez is not interested," Arum confirmed.
The 83-year old promoter also clarified that nothing has been made final, as the final decision would all boil down to Manny Pacquiao himself.
"But everything is still under negotiation. We'll make a formal announcement soon. Crawford and Khan are both competitive boxers. Manny told me in New York that it will be his last fight because he is running for a senatorial seat. I hope he gets elected."
The 36-year old Pacquiao is eyeing for a Senatorial seat in the coming 2016 Philippine Elections. He is currently a Congressman of Mindanao's Sarangani Province, but has been criticized for missing sessions in Congress.
In a January report by the Philippine Daily Inquirer, Pacquiao only showed up for only four days of work in 2014, making him one of the two top absentees in the chamber.
Pacquiao is looking at April 9th of the coming year as the date of his final fight. He is currently holding a win-loss slate of 57-6-2, with 38 victories by knockout.