Manny Pacquiao Affirms Regrets for Comparing Gay People to Animals, but Stands by Bible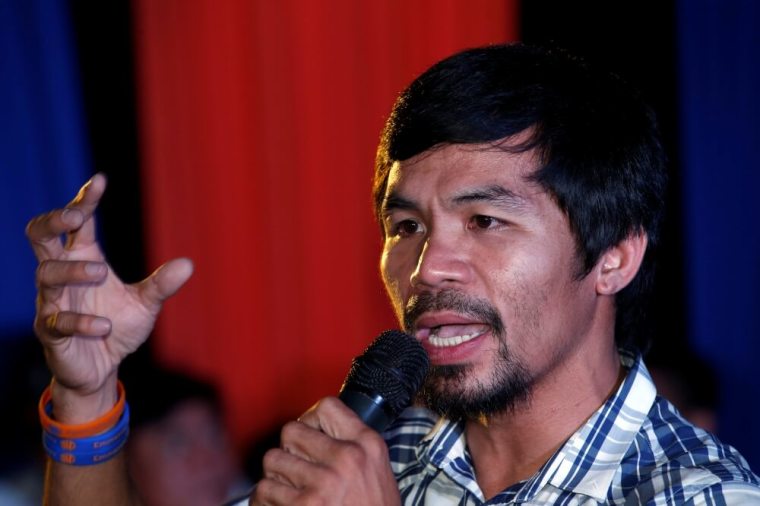 Manny Pacquiao admits he was wrong to compare gay people to animals, but stands by his biblical beliefs concerning homosexuality.
When asked if he regretted his comments that landed him in hot water earlier this year, Pacquiao responded by saying he could have handled things differently.
"I'm not changing my position to what the Bible says," Pacquiao told TMZ on Friday. "My mistake is comparing them to animals. I'm just human, nobody's perfect."
The 37-year-old Filipino senator who recently came out of retirement to fight Jessie Vargas on Nov. 5 made remarks earlier this year in a viral video earlier this year that offended the LGBT community and it's supporters.
"It's common sense. Do you see animals mating with the same sex?" Pacquiao asked. "Animals are better because they can distinguish male from female. If men mate with men and women mate with women they are worse than animals."
His comments led LGBT activist groups to call for his sponsors, such a Nike, to drop him.
"We find Manny Pacquiao's comments abhorrent," Nike said in a statement back in February, The New York Times reported, after they cut the boxer from their roster of athletes who receive corporate funding. "Nike strongly opposes discrimination of any kind and has a long history of supporting and standing up for the rights of the LGBT community. We no longer have a relationship with Manny Pacquiao."
Even before Pacquiao said he regretted the comments in an interview with TMZ last Friday, the boxer had already apologized six months ago in a post on social media.
"I'm sorry for hurting people by comparing homosexuals to animals. Please forgive me for those I've hurt," he wrote as a caption to his Instagram apology video. "I still stand on my belief that I'm against same-sex marriage because of what the Bible says, but I'm not condemning LGBT. I love you all with the love of the Lord. God Bless you all and I'm praying for you."
Since making the comments that many found controversial in February, Pacquiao was elected to become a senator in the Philippines last April.
In an interview with The Christian Post last year, Pacquiao said he entered politics to "provide opportunities for my fellow countrymen that will improve their situations. As a politician, I want to help create jobs so that I can bring them out of their poverty. I want to give them hope. Boxing has been my passion, but public service is my calling."