Many Christians 'Utterly Unprepared' to Defend Their Faith, Says Leading Christian Apologist
William Lane Craig Discusses Book 'A Reasonable Response: Answers to Tough Questions on God, Christianity and the Bible' and How Christians Can Win Over Atheists and Agnostics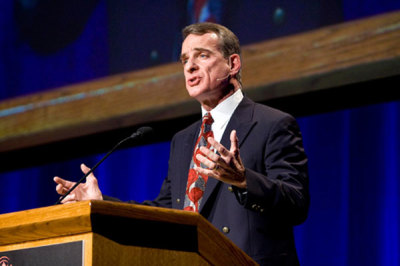 Dr. William Lane Craig, philosophy professor and a leading Christian apologist, believes there is an urgent need for the church to equip its members to give good responses to tough questions about their faith, especially in light of a cultural climate that has made it easier for atheists to be more outspoken, sometimes aggressively so, in their attacks on religious beliefs.
Expressing skepticism over the accuracy of a 2012 Pew Research Center survey that found an increase in the number of religiously unaffiliated Americans, Craig suggested that the New Atheism movement inspired by the works of Sam Harris, Richard Dawkins, Daniel Dennett, Christopher Hitchens, and others has removed "the stigma of being an atheist or self-identifying as an atheist."
The Pew survey, whose response rate is less than 10 percent, reported that nearly 20 percent of Americans are religiously unaffiliated, but many of them remain "religious" or "spiritual" in some sense. The survey also found that among that number were 6 percent who described themselves as atheists and agnostics
The Talbot School of Theology professor says Christians should be concerned — and prepared to sway the irreligious.
"I think that we need to present a sound case for why we believe that God exists and why as Christians that we believe that He has revealed Himself decisively in Jesus of Nazareth," said Craig. "I believe that if we can do that, we will win over many of these people who are now self-identifying as agnostic or atheist."
Craig believes his latest book, A Reasonable Response: Answers to Tough Questions on God, Christianity, and the Bible (Moody Publishers), can help equip Christians to "earnestly contend for the faith" and give them a hand in being "prepared to make a defense to anyone who asks…"
"I think that many Christians are intimidated because atheists are often very aggressive," said Craig. "They will attack you personally, and they will do so in the name of reason and intellectual arguments. And many Christians feel utterly unprepared to give a defense of what they believe, and feel unprepared to answer the tough questions that their unbelieving friends will put to them."
A Reasonable Response, which includes actual queries from those who have written to Craig on his website, include discussions on "knowing and believing what is real," "origins and the meaning of life," "the afterlife and evil," and "issues of Christian practice." Questions in the book also come from believers, who inquire about the Trinity and incarnation, aspects of Reformed theology, and what it means to have a relationship with God.
Craig, whose 1994 book Reasonable Faith: Christian Truth and Apologetics remains popular with readers, has debated over the years several prominent theologians, scholars and atheists, such as Paul Kurtz, Bart Ehrman, Christopher Hitchens and many others. 
Although they have appeared on stage together in a 2010 group debate, noted evolutionary biologist and bestselling author Richard Dawkins continues to refuse to spar one-on-one with Craig (read his op-ed "Why I refuse to debate with William Lane Craig"). Popular author, philosopher and neuroscientist Sam Harris, cited in a recent profile of Craig by The Chronicle of Higher Education, has suggested that the Christian apologist "seems to have put the fear of God into many of my fellow atheists."