Marilyn Monroe Statue Thrown Away in China, Photo Goes Viral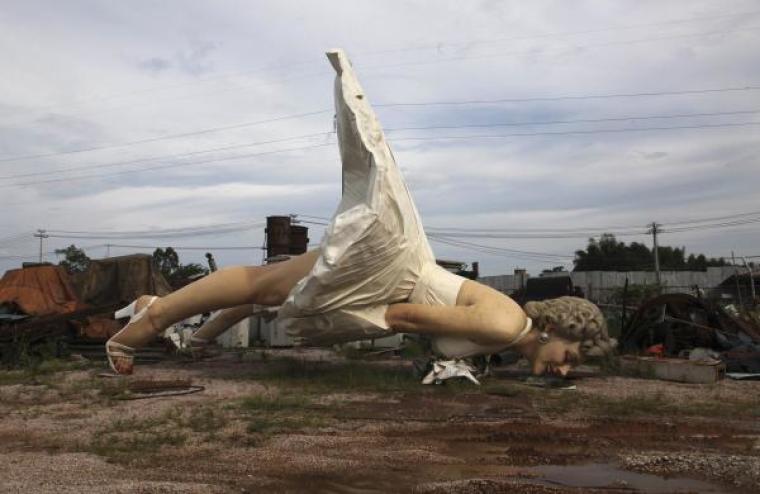 A large statue of Marilyn Monroe turned up in a dump in southern China when a photographer captured the shocking image on Wednesday, June 18.
The giant stainless steel statue, which measures 30-feet tall and weighs about eight tonnes, was brusquely disposed of at a dump site in Guigang, Guangxi Zhuang Autonomous Region, China. Honoring Marilyn Monroe's famous scene from the film "The Seven Year Itch" in which she fought to keep her skirt down while on a New York City subway grate, the statue features the iconic Hollywood star in a white dress and heeled strappy sandals.
The statue was made by several Chinese artists who worked on it for over two years, but earlier this week, the piece was transported to the garbage collecting company for unknown reasons, according to Reuters. It had previously been displayed outside of a business center in the city for just six months, local media reported.
On Friday, a photo of the statue published by Reuters went viral, with many of Monroe's fans astonished over the decision rid of the artwork. It features the Monroe statue face-down amidst the trash.
"Photo: A giant statue of Marilyn Monroe at the dump of a rubbish… Surely this is an undignified a pose as it is possible to get," Twitter user Ray posted.
J. Freedom du Lac joked, "Not much, just a giant Marilyn Monroe statue face down in a garbage dump in China."
Meanwhile, the trashed Monroe statue in China closely resembles the 26-foot tall, 17-ton "Forever Marilyn" statue that is currently on display in Hamilton, N.J. The statue, created by artist Seward Johnson, was previously in Palm Springs, Calif., as well as Chicago, IL. There is also a famous but small-scale statue of Monroe in "The Seven Year Itch" near the entrance of the Beverly Hills Four Seasons hotel.