Mark Driscoll Comforted by Scripture: 'Do Not Repay Evil for Evil' as He Prepares Launch of New Church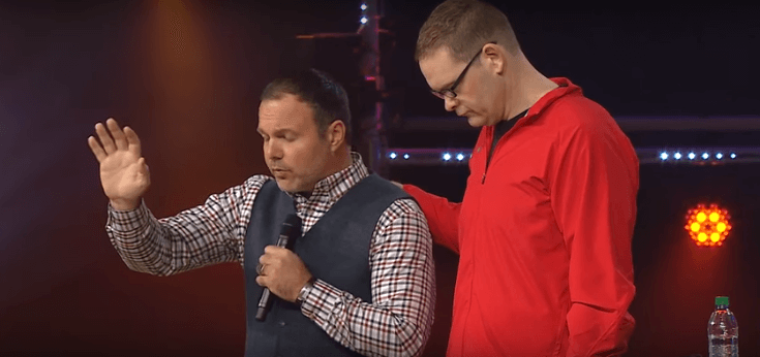 After nearly two tumultuous years at the center of an ongoing scandal that includes allegations of plagiarism, fostering an abusive work environment, and most recently racketeerig, embattled pastor Mark Driscoll is relying on Scripture to maintain his perspective on life as he prepares for the launch of a new church.
In an email to The Christian Post Tuesday, Driscoll shared a Scripture that has helped him throughout his present ordeal.
"This Scripture has been a great help to me," he wrote, citing 1 Peter 3:8-11, which includes the passages: "Do not repay evil for evil or reviling for reviling, but on the contrary, bless, for to this you were called, that you may obtain a blessing. For whoever desires to love life and see good days, let him keep his tongue from evil and his lips from speaking deceit … "
Although he resigned from Mars Hill Church in Seattle, Washington, which he helped found in 1996, Driscoll recently told South Carolina-based NewSpring Church pastor Perry Noble that he still counts himself as blessed. During an interview at Noble's The Most Excellent Way to Lead Conference in early March, Driscoll said, "If I lose everything and I have Jesus and Grace (his wife) and those kids, there is not a man more blessed than me. I absolutely believe that."
Without the responsibilities of managing a megachurch, Driscoll told the NewSpring pastor that, presently, his life is relatively simple. "I don't have a core group, I haven't had a meeting, I don't have a sound system … I don't have an assistant. Literally it's pretty simple," he said. "I take the kids to school, and then I talk to a microphone, put out a podcast, and then I take them to baseball, and it's good. I like that."
That said, Driscoll still feels the call to ministry. " … We feel as a family that God's called us to start a church … it's a family ministry and we named it The Trinity Church."
On Feb. 1 Driscoll announced via his website and Twitter that he was planting a new congregation, The Trinity Church, in Phoenix, Arizona — although news of his new church broke a month earlier after the Articles of Incorporation document for The Trinity Church was discovered.
Although Driscoll's new church has not officially launched, it recently announced that it would hold its first gathering on Easter Sunday. The Easter proceedings will take place at Scottsdale's Glass and Garden Drive-In Church, a facility that the church is renting, according to Trinity's website.
A statement on the site read in part, "Even though it's last minute, as the ink on our rental contract is still wet, we look forward to meeting you at our modest open house and prayer meeting. Pastor Mark will be sharing our church vision as we begin gathering our launch team."
The website explained that Driscoll spent months praying for a church facility with 1,000 or more seats that was situated along the 101 Freeway. With the Glass and Garden Drive-In Church, " … Pastor Mark believes that God has supernaturally provided."
Despite his recent troubles, Driscoll's efforts to start a new church have received support from many fellow clergymen — Noble being one of the most vocal. The Christian Post previously reported how the NewSpring pastor has taken on Driscoll's critics who feel that he isn't ready to lead another congregation.
Noble once said, "Here's a man who messed up, made some mistakes, admitted it, apologized, said he was sorry — he's starting over … Who made you the judge on whether or not he's ready?"