Massachusetts church vandalized after congregation removes LGBT pride flags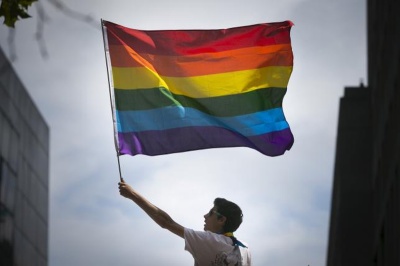 A Massachusetts church was vandalized after a preschool that rents space at the church posted online about how LGBT pride flags its owner posted on the church property was removed by church members. 
Pleasant Street Preschool, owned by the openly gay Mike Richmond and his partner, rented space at Grace Community Church of Marblehead. Richmond recently posted pride flags on the church property to celebrate LGBT pride month. 
According to an Instagram post by Richmond on the Pleasant Street account last Wednesday, a married couple removed the pride flags. In the post, Richmond also said the church told the school in March that they were being evicted in June without a clear explanation why.
"As a gay person who runs a business there, I simply wanted representation and to display this symbol of peace, love and acceptance," claimed Richmond. "I never discussed Pride, the flags or what it means to be gay with the children. They noticed them on the way to the park and thought they were pretty."
"I'm so beyond sad and frustrated. I can't tell you how difficult it is to have to go there every day now and try to remain composed and run a normal day for the kids."
Last Friday, the Marblehead Police Department announced that Grace Community Church, which first opened in 1810 as a Baptist church but is now nondenominational, had been vandalized with LGBT-themed graffiti. The incident likely took place late Thursday evening.
"The content of the graffiti most likely is in support of the LGBTQ+ community," stated authorities, stressing that "members of Marblehead's LGBTQ+ community have already offered to pay for and clean up the vandalism."
Marblehead Police Chief Dennis King said in a statement that "vandalism will not be tolerated, and those responsible for this act, or any future acts, will be held accountable if identified."
"I know that tensions are high around the removal of pride flags at the church. But people need to allow for the process to address any dispute between the Church and their tenant," stated King.
"I think that I can say with confidence that people in the Town of Marblehead choose to respect one another over everything, even if they disagree."
The graffiti included a rainbow spray-painted on the side of the church, with the phrases "stay gay stay hard" and "love is 4 everyone" painted next to it. The vandalism was first discovered by Richmond, who called the police. 
The Marblehead Pride Committee posted on Instagram that it "does not condone any form of violence or vandalism."
"Positive change happens when we are kind and respectful to ALL of our neighbors," the post reads. 
Preschool supporters staged a nonviolent protest against the church Sunday for its eviction decision, with local news estimating that around 150 people attended.
Church leadership issued a statement to The Marblehead Current published on Sunday, saying that the congregation removed the pride flags in part because they generally refuse to engage in political activism.
"We are a politically and culturally diverse congregation. For this reason, we do not put signage for many things, even good things, on the church front," stated the church.
"We generally steer clear of any displays that may be interpreted as political. As a church, and as a landlord, that is our right. Civil liberties also apply to churches, and means we must extend respect in all directions."