After warning of religious 'attacks' on trans people, media avoid 'Christian' or 'transgender' in Nashville shooting headlines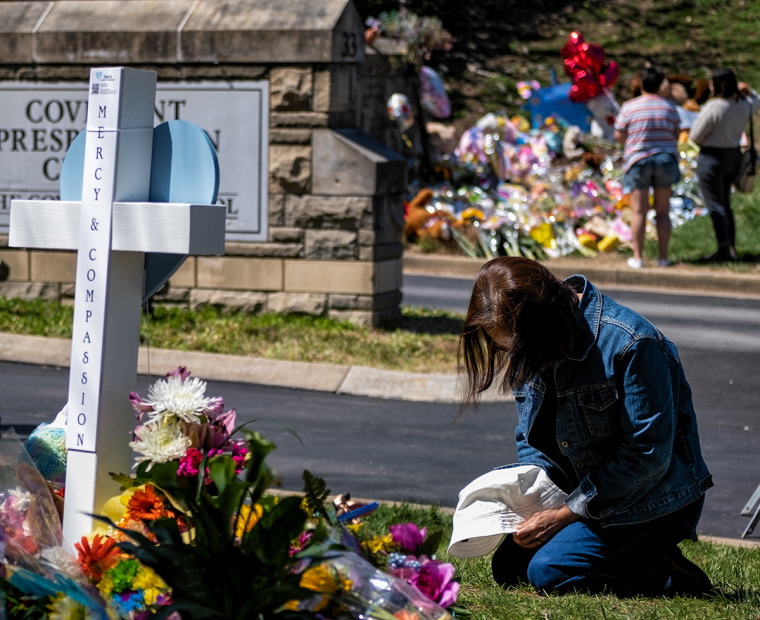 Despite the loss of six lives at a Christian elementary school, not one of the nation's biggest newspapers used the words "Christian" in their headlines for the mass shooting in Nashville earlier this week.
The New York Times, The Washington Post, The Wall Street Journal and even The Chicago Tribune all avoided initially referring to The Covenant School as a Christian school after a heavily-armed woman — who was later identified as trans — forced her way into the school and killed six people, including three young children.
The shooter, later identified as Audrey Hale, 28, of Nashville, was a former student at the school and self-identified as trans, according to Metropolitan Nashville Police Chief John Drake. 
Authorities say Hale was armed with two rifles and a handgun when she made entry just after 10 a.m. Wednesday at the school, located in the Green Hills neighborhood of Nashville. 
She was fatally shot during the encounter with officers, police said.
Her victims were later identified as Evelyn Dieckhaus, Hallie Scruggs and William Kinney, two of whom were 9 years old and one who was eight and soon to turn 9, and Cynthia Peak, 61, Katherine Koonce, 60, and Mike Hill, 61.
Immediately following the shooting, several national newspapers declined to identify the school as Christian: The New York Times wrote "Heavily armed assailant kills 6 at school in Nashville"; The Washington Post ran the headline "6 slain in shooting at Nashville school"; the Chicago Tribune wrote "6 dead in shooting at Nashville school"; and The Wall Street Journal ran its headline as "Six Shot Dead in Nashville Elementary School."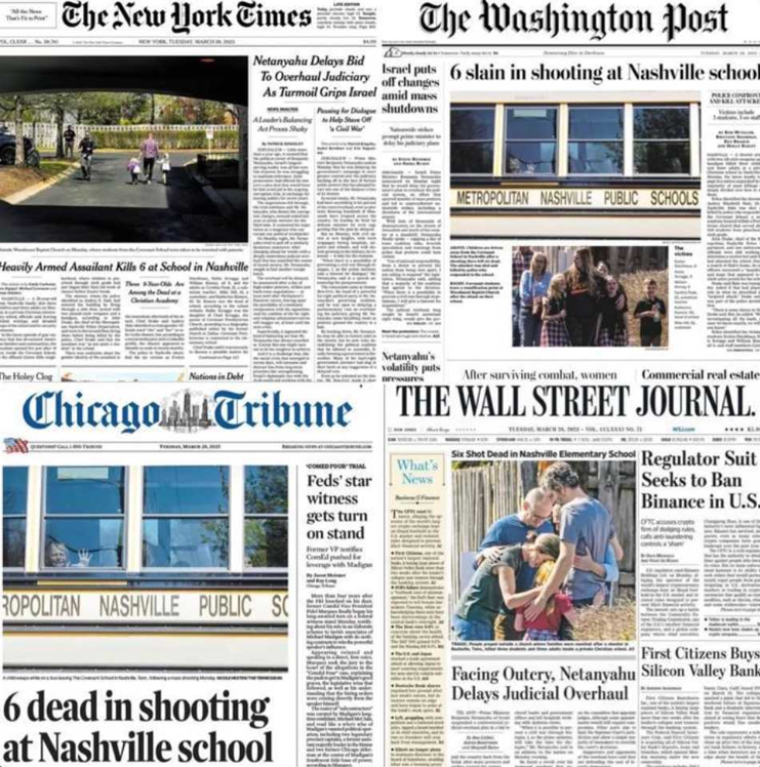 Other outlets like NBC News avoided using the word "trans" or "transgender" in their headlines to describe the suspect, with a search of NBC News for the term yielding a number of older news stories, with only two results relating to the shooting as of March 28, neither of which used the words "Christian" or "transgender" in their headline.
One of the NBC stories made only a passing mention of Hale as being trans-identified, adding that officials are still determining "if it actually played a role into this incident."
The same article, however, also used the gender-neutral pronoun "they" for Hale, a biological female, and suggested in its headline that "resentment may have fueled" the shootings.
CBS News initially reported the shootings took place at a "private Christian school" and that the "suspected shooter is also dead," before updating its tweet to clarify the outlet was "still working to confirm Hale's gender identity."
As of March 29, there was no mention of Hale's trans identity in CBS News' lead story, instead referencing Hale's reported purchase of seven firearms from five stores prior to Monday's attack.
In recent months, a number of national media outlets have sought to portray Christians as a threat to the LGBT community: 
Jack Hibbs, founding pastor of Calvary Chapel Chino Hills in Southern California, told The Christian Post that while we don't yet know if Christians were specifically targeted in the shooting, it's clear that the mainstream media would prefer to portray Christians as the threat to LGBT people.
Hibbs called that idea a "propaganda scheme rather than reality, because the Christian family really is the actual answer to bringing hope and love and comfort to the [LGBT] community rather than the media spinning it as us being hostile."
He also said the "media is responsible" for fostering hostility toward Christians and Christianity in general.
"I really do believe that the media is responsible for this genre of attitude and thinking, when in reality if people would just calm down and look around, I see Christians loving, reaching out and bringing hope to a section of people who have lost hope. 
"They're confused, they're terrified. Jesus Christ is the only answer for them, and the Christian who knows that will never be their enemy."
The media response to the attack comes as federal government officials have yet to declare the Covenant School shooting as a hate crime.
The U.S. Department of Justice did not issue a statement on the Nashville shooting, a move which stood in stark contrast to its statement on the mass shooting in Buffalo, N.Y., last May, which it described as a "hate crime and an act of racially-motivated violent extremism" and other targeted shootings. 
When asked by a reporter Tuesday whether he believed Christians were targeted in the Nashville shooting, President Joe Biden smiled and said, "I have no idea."
When the reporter noted that Sen. Josh Hawley, R-Mo., a staunch conservative and prominent critic of the president, believes that Christians were targeted in the shooting, Biden replied, "Well, I probably don't then." After chuckling, he clarified that he was joking, reiterating, "I have no idea."
Earlier in the day, Hawley wrote a letter to FBI Director Christopher Wray and Secretary of Homeland Security Alejandro Mayorkas urging them to investigate the shooting at The Covenant School in Nashville that killed six people, including three children, as a federal hate crime.