Megachurch Pastor David Yonggi Cho Convicted of Embezzling $12M Says 'Suffering' Taught Him Individuals 'Shouldn't Possess Anything'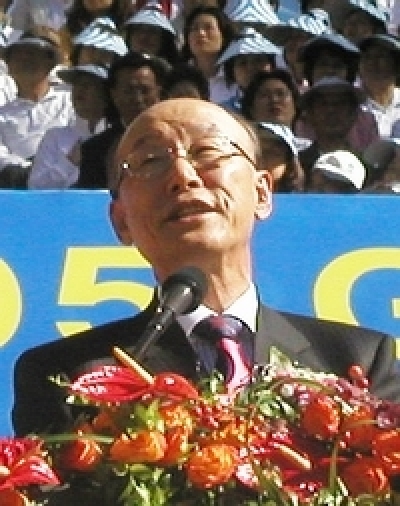 The 78-year-old pastor of the world's largest Pentecostal church convicted of embezzling $12 million told his congregation on Sunday that through "this suffering" he had learned that "an individual shouldn't possess anything."
"Besides health, status, fame, authority, money... these are all matters that are outside the body and unworthy of any pursuit," Pastor David Yonggi Cho told Yoido Full Gospel Church, in Seoul, South Korea.
Cho added that he hopes that God forgives him for his actions.
"God forbid, if God calls me back today, I will still be able to go to the Kingdom of God," he said.
Cho was sentenced to three years in prison last week after he was convicted of directing officials to buy stocks from his son at four times the market price. The church subsequently lost U.S. $12 million, according to The Gospel Herald.
Cho was also convicted of tax evasion.
The pastor, who founded his church in 1958, now must pay back $4.6 million. Cho's son, Hee-jun, the former CEO of the media company Kookmin Ilbo, was also sentenced to three years in prison for participating in his father's embezzlement scheme.
Cho's contrition comes several months after former elder, Ha Sang-ok, said in November that he had attempted unsuccessfully to convince the pastor to end his unethical ways.
"A sect leader might violate the commandments and do as he wishes, but a pastor cannot do that," Ha said, as reported in The Hanyoreah. "Over the past 14 years, I have met with Rev. Cho many times to try to persuade him to repent and return to being a great pastor, but the corruption has continued. That's why I had no choice but to disclose it to the outside world."
In the past, the Yoido Full Gospel Church has been criticized by some for what they allege are prosperity gospel messages. According to Kingsway Global Ministries, Cho has taught, "We must rethink our misguided thoughts considering material wealth as being equated with sin. We must drive out our subconsciously rooted thoughts of poverty, condemnation and despair. God acts in concordance with our conscience; If our thoughts are filled with poverty and despair, God cannot bless us with material blessing."
A biography of Cho on the English version of the Yoido Full Gospel Church website says that the pastor, who came to faith after attending a crusade led by American missionary Ken Tines, met Jesus in a vision one night while he was fasting and was baptized in the Holy Spirit.
"Pastor Cho gives thanks to the Lord for his 47 years of ministry, and has been sincerely serving 750,000 church members," the biography states. "In the early 21st century, the church's goals for next 10 years are to build 500 prayer houses and 5,000 satellite churches in Korea, and to expand global mission through internet broadcasting, and to enlarge overseas mission to the third world countries, including North Korea."
Approximately one million people claim membership at the South Korea church, which is affiliated with the Assemblies of God denomination. The AG is the world's largest Pentecostal denomination and boasts 66 million members.