Megachurch Pastor: How to Biblically Conquer Insecurity
Megachurch Pastor: How to Biblically Conquer Insecurity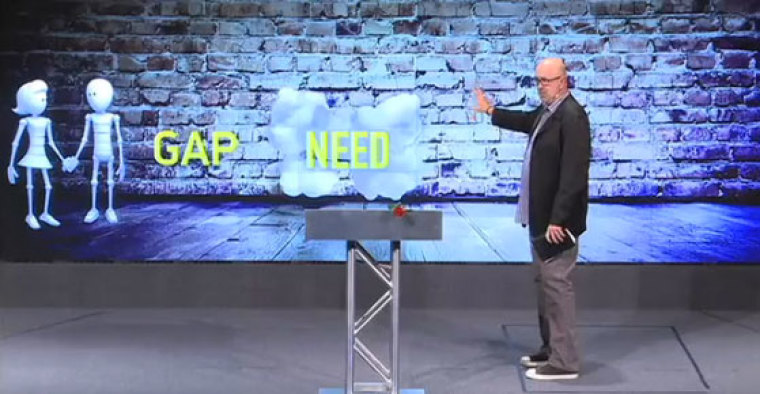 Chicago-area megachurch pastor James MacDonald noticed that he struck a nerve – in a good way – during a sermon two weeks ago on insecurity. Feeling that it wasn't the right time to move on, MacDonald delivered an emotionally-charged and revealing follow-up sermon – complete with his own biggest insecurity as well as that of his late mother, which he has never shared publicly – on Sunday to thousands of people who responded with "Amen" and text-messaged questions.
Walking freely on a clean gray stage against a homey brick wall, an illusion created by video image, MacDonald – founding and senior pastor of the 7-campus Harvest Bible Chapel – spoke forcefully about insecurity in his sermon titled, "I Am: Conquering Insecurity Part 2." Insecurity, he said, is defined as the awareness of the gap between who I want to be and who I am.
A prime example of someone in the Bible who struggles with insecurity is Moses, MacDonald pointed out. The Bible records in Exodus 3 and 4 Moses' conversation with God when he was given the great commission to lead the Israelites out of Egypt. In Exodus 4:1, Moses exhibits behavior insecurity when he asks God, "What if they do not believe me or listen to me…"
"Why is Moses feeling like that? It's because he has a past," explained MacDonald. "In this instance, I think it is related to Moses' past. He was a murderer. How many people think that would hang over you a little bit?"
But believers in Christ who repent can be forgiven for murder, proclaimed the Chicago-area pastor, to which the crowd responded with "Amen!"
"There is no sin beyond the reach of God," he declared with conviction. "But sometimes we don't feel that. We aren't living by the truth and we feel the gap and Moses was like that."
When Moses hears the words kill, murder, killer, victim, run for your life, he is likely reminded of his past behavior, surmised MacDonald.
"Some of you here it is the very same deal. … You've made some mistakes. You have some darkness in your past. Maybe your parents don't know it. Maybe your spouse doesn't know it either. Maybe your friends and small group don't know it. But you know it and Satan brings that up as absolutely often as he can," MacDonald preached.
But the Chicagoland pastor quoted a recent tweet by popular California Pastor Greg Laurie: "'Next time Satan reminds you of your past, remind him of his future.' BAM!" shouted MacDonald as the audience laughed. "Isn't that great? I love that!"
Satan threw Moses' past in his face and said, "'Hey, hey, you can't do nothing for God!' Look at – and he points to something (you know what it is) and he grinds us under his heels. And we feel insecure and we feel that gap. That was where Moses was. It was a behavior insecurity."
But through Christ, believers can overcome behavior insecurity by doing the following:
• Repent – God wants to fill your heart with a sense of forgiveness.
• Restitution – Turn to God and perform deeds that are appropriate to repentance. Example: Zachaeus, who after meeting Jesus and receiving his grace and forgiveness vowed to pay back everyone four times what he took from them.
• Resolve – Determine to not commit the same wrong behavior again by making it harder to sin by avoiding compromising situations and establishing accountability
• Receive – Receive the grace of God
"There is no reason in the universe for a follower of Jesus to live under behavior insecurity," declared MacDonald after stating the last step to overcoming behavior insecurity. "That is what the cross is all about. That is what the empty tomb is all about, and we are making a mockery of the finished work of Christ if we are not obliterating behavior insecurity through sincere repentance, restitution, resolve and receiving the forgiveness that God really offers."
In addition to behavior insecurity, Moses – as well as believers today – suffers from talent insecurity. In Exodus 4:10, Moses points out that he cannot speak eloquently and is therefore not suited for God's calling.
But MacDonald clarified that "what God is really looking for is effort, effort, effort, effort. It is a lot less about talent and a lot more about effort. I can't believe how many people foolishly, naively want to attribute success to ability, opportunity, a lucky break, the right place at the right time."
The Chicago pastor noted that most people carelessly attribute the legendary rock band The Beatles' success to the group being "mega talented."
But Malcolm Gladwell's non-fiction book The Outliers: The Story of Success details the often ignored fact that The Beatles spent their early period in a "dirty, filthy strip bar in Germany, playing four, five, six shows a day, seven days a week, for several years."
"We see something that is immensely successful and we think they roll out of bed with it. But that is not the way it is," MacDonald informed the audience. "Things that matter, things that are worthwhile, things that last take a lot of effort."
And lastly, he spoke about personal insecurity, during which time he shared about his own problems. The pastor of the 22nd largest church in America, according to Outreach Magazine, said that one of his biggest problems is that he overworks because he is afraid that people will think he is lazy. This particular problem stems from his late mother's own insecurity.
His mother came from a humble background – her father was a day laborer and her mother was a homemaker. When MacDonald's mother was in ninth grade, she was pulled out of school and had to start working, washing people's hair to support her family. His mother ended up marrying his father, who has a master's degree, and they had children who all went to college. Therefore, his mother always felt insecure that she did not have formal education. She overcompensated by being a voracious reader, the pastor shared. She would also whisper to him starting from when he was five or six that people who carried her maiden name (his mother gave him her maiden name as a middle name) were hard workers.
To overcome personal insecurity, MacDonald said after sharing his family story, God needs to be the One that fills the gap that causes one's insecurity. MacDonald prescribes the following:
• Accept the flaws that you can't change as part of God's purpose for you
Example: In Exodus 4:11, God responds to Moses, "Who gave man his mouth? Who makes him deaf or mute? Who gives him sight or makes him blind? Is it not I, the Lord?"
• Build your God story a chapter at a time
• Concentrate on God not the gap
"This is the awesome thing about being a Christian. Even my errors in judgment, even my foolishness, even my weaknesses, when I get in partnership with God, He is able to work all things for the good of those who love Him," declared MacDonald.
"You can't go back, but you can go forward in God's grace and trust in His sovereignty. Accept the flaws you cannot change as part of God's purpose for you."