Melania Trump Leads Standing Ovation for Blind Singer at National Prayer Service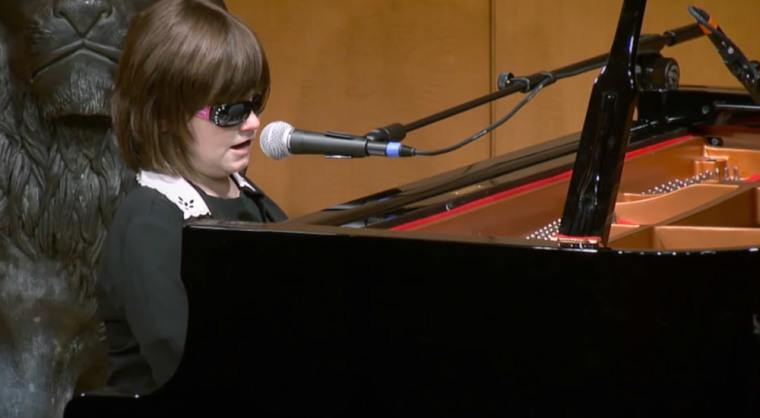 WASHINGTON — A 20-year-old vocalist who is blind received rapturous applause at the National Prayer Service with her stirring rendition of "How Great Thou Art," a standing ovation led by First Lady Melania Trump.
Marlana Vanhoose, 20, from Kentucky sang an arrangement of Stuart K. Hine's beloved hymn, as part of the 58th Presidential Inaugural at Washington National Cathedral Saturday with President Donald Trump, First Lady Melania Trump, Vice President Pence and his wife Karen Pence and their families in attendance.
Born with a disease called Cytomegalovirus (CMV), Vanhoose has been blind since birth as a result of her optic nerve never forming. According to her website, LittleMarlana.com, she started "humming 'Jesus loves me' before she talked and by the time she was two years old she started playing the piano."
Vanhoose sang each verse and chorus of 'How Great Thou Art' with superb control and articulation.
Visibly moved, as noted by the Washington Examiner, First Lady Melania Trump wiped a tear from her eye and was the first to stand up as the audience clapped and cheered after Vanhoose concluded.
Vanhoose also sang the national anthem at the Republican National Convention in July 2016.
Christian pastors who read scriptures and offered prayers at the National Prayer Service included Evangelist Alveda King of Priests for Life; Bishop Harry R. Jackson of Hope Christian Church in Beltsville, Maryland; David Jeremiah of Shadow Mountain Community Church in El Cajon, California; Greg Laurie of Harvest Christian Fellowship in Riverside & Irvine, California; Jack Graham of Prestonwood Baptist Church in Plano, Texas; David Swanson of First Presbyterian Church in Orlando, Florida; Cissie Graham Lynch of Samaritan's Purse; Ramiro Peña of Christ the King Baptist Church in Waco, Texas; His Eminence Donald Cardinal Wuerl, Archbishop of Washington; and Darrell Scott of New Spirit Revival Center in Cleveland Heights, Ohio.
VanHoose's performance can be viewed below, starting at the 2:25:00 mark.