Michael Jordan Praises Jeremy Lin as Hornets' 'Biggest Acquisition'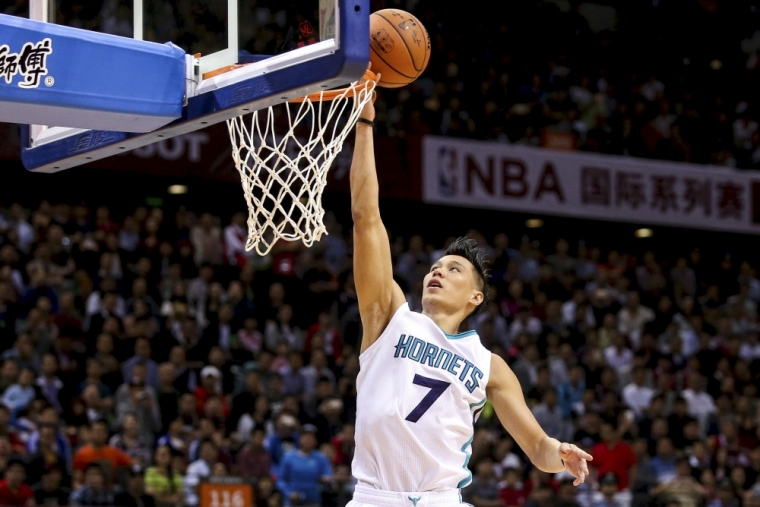 Michael Jordan, the NBA Hall of Famer Charlotte Hornets owner, is backing Jeremy Lin — the newest addition to his team.
According to Jordan, the 27-year-old Christian point guard is a welcomed addition to the Hornets.
"We just got Jeremy Lin, who I think is going to be our biggest acquisition," Jordan said, according to the Xinhua News Agency. "His penetration, his shooting capability, his point guard savvy — he can really pass the basketball — his energy about the game of basketball [is] something."
Lin has also spoken highly about Jordan and even reacted to who he felt would win in a game of one-on-one if both the young point guard and the legendary basketball player were to engage in a game today.
"He's my boss ... so I'll let him have this one lol," Lin said, according to a Fox Sports.
After coming off of a bad 2014-2015 season with the Los Angeles Lakers, Lin said he believed joining the Charlotte Hornets was a divine occurrence.
"Praise God for me landing in Charlotte!! I truly believe God specifically placed me in Charlotte, as He left one obvious door open and closed the rest," Lin wrote in an August prayer email he sent to fans. "Initially, Charlotte wasn't even on my list of top destinations, but my journey has always had unexpected but divine turns and surprises."
He went on to request for prayer that "I would build great chemistry with coach Clifford and my teammates in Charlotte," and "prayer that I wouldn't fall into a complacent or comfortable state spiritually during an offseason with less stress/pressure, but that I would greatly thirst and desire God's presence daily."
Last year, Lin introduced his digital prayer group to fans, which sends an email of prayers to those who subscribe on his website.
"The journey I've been on has had its ups and downs and I appreciate all of your support throughout. Some of you have asked how to pray for me so I decided to start a prayer group where I can send out requests for those that want to pray and support," Lin wrote on his website back in 2014. "Please feel free to share with others you think would be interested. So much of what happens is out of our control, but prayer has been a place I have consistently found peace with God."
Back in May, Lin emailed those in his prayer group to thank them for lifting him in prayer during a season where he described himself feeling "burned out" with a lack of passion.
"Praise God for helping me through this past season. Also, thank God for all you prayer warriors," Lin said in the May email addressed to his prayer group, which reads "Jeremy's Prayer Requests 8."
"This was the first year that I've sent out prayer requests and it is something I plan on continuing because I feel SO blessed to have people willing to pray and support me spiritually!"
The NBA player has made it clear that his spiritual life is a big part of his game and previously spoke about the importance of learning to grow spiritually for improved peace on the court.
"When I was a rookie, I put myself through mental torment. I can't do that anymore," Lin told the Los Angeles Times back in February. "So now I'm just growing more as a person spiritually and just learning to surrender it all. It gives me a lot of peace, man."