Michelle Obama Eye Roll: First Lady Not Impressed With John Boehner at Inaugural Lunch (VIDEO)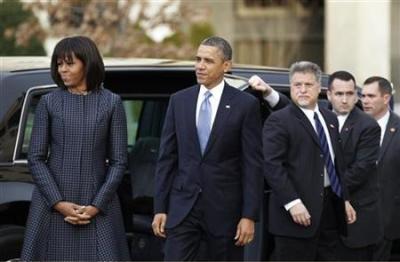 Michelle Obama gave an eye roll at the inaugural lunch on Monday as John Boehner was speaking to her husband next to her.
The First Lady was caught on film sandwiched between President Obama and Speaker Boehner at a lunch table, and as the Speaker is speaking she rolls her eyes and shakes her head at something he says.
It is not sure what Boehner said at the table but it did appear that Michelle was not that impressed with the joke or comment that he had given.
The video footage shows the House Speaker talking enthusiastically to President Obama and as he does so he taps Michelle on the shoulder, but she seems to just glance sideways at the gesture rather than turning to give her full attention. He continues talking and after a few more words Michelle seems to gently shake her head and roll her eyes.
Earlier in the day the president was publicly inaugurated for his second term. He gave an impassioned speech for his inaugural address, saying: "This generation of Americans has been tested by crises that steeled our resolve and proved our resilience. A decade of war is now ending. An economic recovery has begun. America's possibilities are limitless, for we possess all the qualities that this world without boundaries demands: youth and drive; diversity and openness; an endless capacity for risk and a gift for reinvention. My fellow Americans, we are made for this moment, and we will seize it – so long as we seize it together."
President Obama concluded his speech saying, "Let each of us now embrace, with solemn duty and awesome joy, what is our lasting birthright. With common effort and common purpose, with passion and dedication, let us answer the call of history, and carry into an uncertain future that precious light of freedom. Thank you, God Bless you, and may He forever bless these United States of America."