Middle Eastern Christians Increasingly Targeted by Blasphemy, Apostasy Laws
Islamic law is increasingly used by authoritarian governments and extremist forces in the Muslim world to acquire and consolidate power, experts say, which is becoming an increasing threat to religious minorities, especially Christians.
On Jan. 23, a trial of a man accused of blasphemy taking place in post-revolutionary Tunisia caught the attention of the West. The man was Hamadi Redissi, a television director who reportedly faces as many as five years in prison for broadcasting the French animated movie "Persepolis," which contains a brief scene depicting God that many Muslims have deemed blasphemous.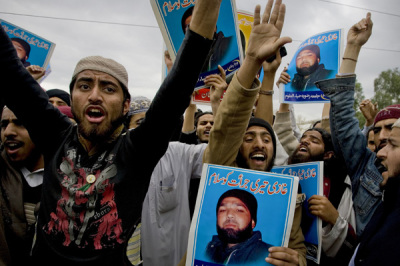 The trial struck a nerve for a good reason – Redissi's case might serve as proof of what some see as the increasing Islamization of Arab countries, especially following the demise of dictators during Arab Spring uprisings. Blasphemy laws, prohibiting offense to Islam and Muslims in any way, are, alongside apostasy, the most controversial codes of Islamic law. These laws have been on the rise in recent years, and are increasingly posing a threat to free speech and human rights as well as religious freedom across the Middle East as well as, occasionally, in the West, experts claim.
Paul Marshall and Nina Shea, in their recent book, Silenced: How Apostasy and Blasphemy Codes are Choking Freedom Worldwide, argue that Islamic law is increasingly used by authoritarian governments and extremist forces in the Muslim world not for religious reasons, but to acquire and consolidate power – a chilling assumption given that Muslim political parties are cherishing great popularity in post-revolutionary Arab countries, like Egypt.
Moreover, Marshall, who along with Shea is a Senior Fellow at Hudson Institute's Center for Religious Freedom, told The Christian Post recently that the controversial laws are causing a threat to religious minorities in the Muslim world, and in particular, Christians.
The area where laws of blasphemy and apostasy are practiced is vast, covering the regions of Saudi Arabia, Iran, Egypt, Pakistan, Afghanistan, Jordan, Morocco, Turkey and Yemen, as well as parts of Africa and South and Southeast Asia.
Marshall emphasized that the laws, which are vulnerable to free interpretation by local authorities, in most cases, are increasingly used for political reasons, but often also by common people, to accuse one another, for example for the purpose of revenge. Muslims can sometimes accuse other Muslims, but Christians are victims to these accusations most often, Marshall told CP.
The punishment for breaking these controversial legal codes can range from a death sentence (Saudi Arabia, Iran, Pakistan) to years-long prison sentences (Egypt).
"In terms of what blasphemy laws are, in most cases, there aren't any precise laws," Marshall told CP. Only Pakistan, has specific blasphemy laws and a specific penalty for it – death.
These charges are often used to crush or intimidate religious converts and heterodox groups, as well as political and religious reformers, Marshall and Shea explain in Silenced. "The effect goes far beyond what might narrowly be called religious matters to cover a whole range of freedoms, including, most critically, freedoms for the individual of speech, press and religion," reads the press release for the book. "It has also contributed to the recent growth of more repressive forms of Islam, as these charges are used to silence more liberal or reform-minded religious opponents."
According to Shea, the topic of blasphemy became far better known in the West in 1989, when a fatwa calling for the execution of Salman Rushdie, a British Indian novelist, was proclaimed on Radio Tehran by Ayatollah Ruhollah Khomeini, the spiritual leader of Iran at the time.
Since then, multiple public figures have been accused of blasphemy not only in predominantly Muslim countries, but also in the western world. Among those was Danish cartoonist Kurt Westergaard, creator of a controversial cartoon depicting the prophet Muhammad wearing a bomb in his turban. Also, the creators of animated TV show "South Park" were threatened over an episode in which the founder of Islam is seen wearing a bear costume.
Asia Bibi, a Pakistani Christian woman charged with blasphemy and Iranian pastor Yousef Nadarkhani, a convert from Islam, were both sentenced to death because for leaving Islam. Bibi's case remains uncertain, while Nadarkhani remains imprisoned despite international pressures on the Iranian government. 
The situation for Christians could grow worse, the authors claim in Silenced, which also tells of hundreds of other victims, including political dissidents, religious reformers, journalists, writers, artists, movie makers, and religious minorities, all ensnared by controversial Sharia codes.
Marshall also told CP that such codes are prevalent in countries with Muslim governments, which could potentially mean bad news for Christians in Egypt. Islamic political parties dominated the newly-democratic country's parliamentary elections, which came after months of violence, including attacks against religious minorities, most notably Coptic Christians, left hundreds dead. 
There have also been reports of increasing Islamization in post-revolutionary Tunisia, Egypt and Libya.
"If you have a society that does not believe that Christian minorities are in fact equal in the state, in every way, and that when they do certain things, such as insult the Prophet Mohammed, they are committing such a – to put it in Christian terms – 'immortal sin' that in fact mob violence or private violence are justified in a religious sense, democracy won't work," Marshall said of countries where blasphemy and apostasy laws are practiced.
Such acts of mob and individual violence against Christians have been plentiful in recent years, including not only Muslims countries, but areas with radical Hindus in India and Bangladesh.
Even though Marshall told CP he does not see it as plausible that blasphemy and apostasy laws would become widely practiced in the West by the Muslim population, such codes will continue to be projected from Muslim countries, as in the cases of Rushdie, Westergaard, or "South Park's" creators.
Both Marshall and Shea argue in Silenced that the public needs to understand the context, history, impact, and mechanics of the blasphemy phenomenon in modern Muslim societies to know how to effectively respond to pressure "to submit to Muslim taboos regarding expression in the West."
The book also touches upon the evolution toward "new blasphemy codes" in the West: the increasing use of religious hate speech laws, which commonly function as "surrogate Islamic blasphemy laws" and the "long-standing pressure by the Organization of Islamic Cooperation (OIC) to make Western countries and international organizations enforce laws to restrict speech on behalf of Islam; and the rise in threats to stifle expression that casts anything claiming to be Islamic in a negative light."