Miguel Sued for Kicking Fan? Brain Damage Suspected (VIDEO)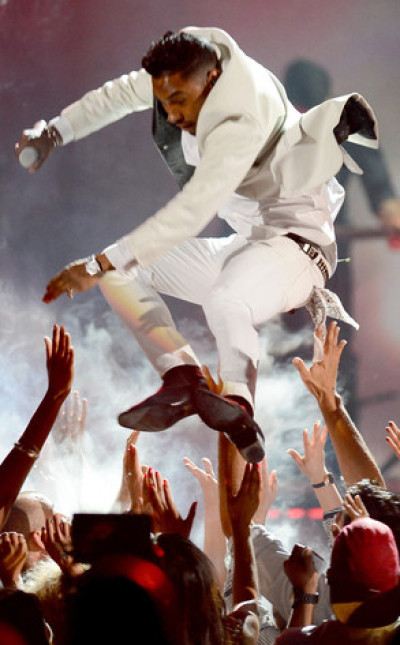 Singer Miguel may have caused a fan to suffer from brain damage at the Billboard Music Awards, the victim's attorney claims.
Khyati Shah, who was accidentally kicked in the head recently by the Grammy award-winning singer, reportedly underwent neurological testing after experiencing "difficulties" stemming from the incident. Shah's attorney, Vip Bhola, confirmed that his client is awaiting test results before deciding whether or not to pursue legal action against Miguel.
"Some of the difficulties she's experiencing are cognitive in nature and lead to suspicion of a neurological head injury," Bhola told TMZ.com.
On May 19 Miguel, 27, performed his hit single "Adorn" at Las Vegas' MGM Grand Garden Arena. At one point, he attempted to take a flying leap over the heads of unsuspecting fans who were placed in a moshpit, but instead the singer landed on his bottom and kicked Shah.
"We will determine [legal action] after we have feedback from medical providers," Bhola told E! News.
Bhola also allegedly confirmed that while he had not yet spoken with Miguel's legal representatives, he and his client are open to the possibility of a settlement, Mail Online U.K reported.
Miguel took to Twitter shortly after the embarrassing incident and insisted that Shah was fine after the kick.
"Got caught up in the moment, thank goodness Khyati is okay," a relieved Miguel tweeted.
The singer later appeared in an interview alongside Shah who he referred to as "[my] new friend" despite them having met under "not the best circumstances."
Shah, who was one of two women who got accidentally kicked by the singer, did not appear to have any visible injuries and laughed throughout the interview.
"Yes they are absolutely OK! He was dancing and hugging them post jump," a Billboard representative onsite in Las Vegas previously told Mashable in an email.
Miguel kicks two girls in the face at 2013 Billboards Music Awards (ORIGINAL)
Miguel and fan Khyati Backstage at the Billboard Music Awards 2013