Mike Pence Confesses to Once Walking Away From Christian Faith, Says He Now Prays With Donald Trump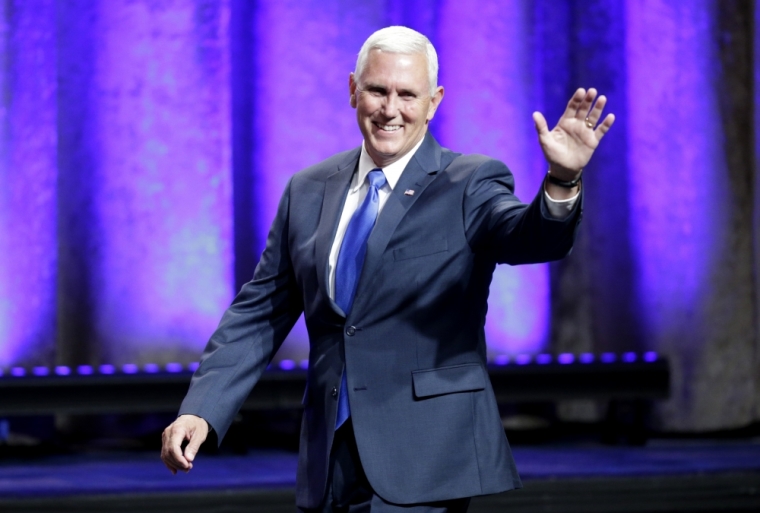 Staunch Christian and Republican vice presidential nominee Mike Pence, who proudly declared in June that his identity as a Christian comes before his politics, confessed Sunday that he once walked away from the faith to which he clings so dearly now.
He also revealed that he prays with Republican presidential nominee Donald Trump.
Speaking at the First Baptist Jacksonville megachurch in Florida at the 10:30 a.m. worship service on Sunday, Pence, who said he grew up in a family that was in church every Sunday, confessed he had walked away from his faith when he started college.
"I went off to college and had largely walked away from the faith that I was raised to believe in," he said according to First Coast News.
The Indiana governor explained that he met a group of non-denominational Christians at college who helped inspire him to "be Christian," according to The Florida Times-Union.
Pence recalled how he admired a cross necklace of a friend in the group who is now a pastor, and asked him how he could purchase one like it and start being a Christian.
"He turned and looked at me and said, 'You know, you've got to wear it in the heart before you wear it around your neck,'" Pence said.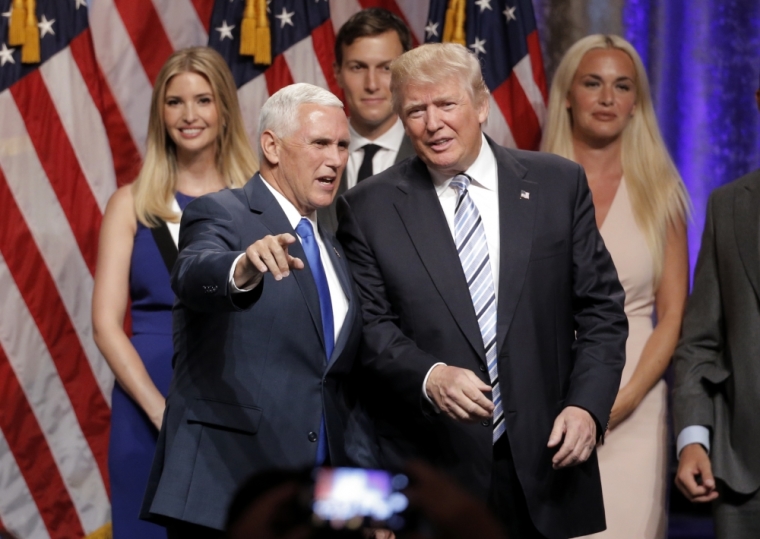 A few months later, while he was at a Christian music festival listening to one preacher after another "talk about not so much what Jesus had done to save the world, but what Jesus had done for me," Pence said his life was changed.
"My heart broke with gratitude and I gave my life to Jesus Christ," Pence explained to wild applause and cheers from the congregation.
Pence noted that since being on the campaign trail with Republican presidential nominee Donald Trump, he has had the opportunity to pray with the New York City billionaire who he says also comes from a "family of faith."
"On the campaign trail, Donald waved [my wife] Karen and me over and he said, 'Hey can we have a prayer before you leave?' This is a man who is raised in a family of faith," Pence said.
Although he would later encourage the congregation to go out and vote at the end of his speech, Pence told the church that what he was really there to do was "worship."
"Karen and I, we're just here to worship. … I'm a Christian, a conservative and a Republican, in that order," Pence said, repeating a often-used stump speech line.
He also reminded the congregation to pray for the victims and first responders at the bombing Saturday night in New York City, an earlier blast in New Jersey and a knife attack at a Minnesota shopping mall.
"We are thankful in our hearts that there was no loss of life as a result of these horrific attacks, and [we] encourage everyone here to pray for those who are recovering from their injuries, especially pray for our brave first responders," Pence said.
"All those investigating these acts of violence, prayers and vigilance is the order of the day. And it is how Americans have ever bravely responded to such acts. Whatever the cause, whether it was terrorist attacks, whether it was inspired by terrorists abroad like you experienced here in Florida not too long ago or whether it was home-grown violence. We urge prayer and vigilance …," said Pence also referencing the June 12 massacre at Pulse nightclub in Orlando, where a gunman killed 49 people and wounded 53 others.
Churchgoers told First Coast News that they were impressed by Pence's story about his faith.
"I haven't heard him share that personal story, and I thought it was really cool," said Josh Berdet of Jacksonville. "It just helps us with the voting process seeing who he is as a person."
Miriam Donnell of Jacksonville who brought her 81-year-old grandmother, Iris, to hear Pence speak told the Times-Union that she would vote Pence for president.
"I like Gov. Pence. I'd vote for him for president. I'm not sure about Donald Trump because he keeps flip-flopping on issues. Grammy likes Trump because she says he's tough, says what's on his mind," Donnell said.