Mike Rowe Says New TBN Series Will Help People Feel Better, Not Worse, About Country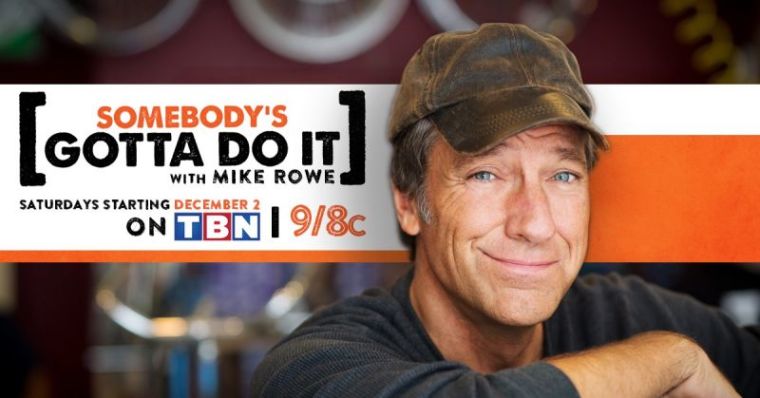 A popular TV series that tells the stories of the work and passions of Americans and is hosted by the man affectionately known as the "dirtiest man on television," will be released on the Trinity Broadcasting Network.
Mike Rowe, most famous for his Discovery Channel program "Dirty Jobs," will be seen on TBN in "Somebody's Gotta Do It," starting Dec. 2 at 9/8 p.m. CT. This series, which originally aired on CNN in 2014 and has since been repurposed, highlights everyone from scientists to do-gooders, from entrepreneurs to collectors, people who Rowe says "do what they do because of a weird mix of love, compulsion, obsession, dedication — whatever it is." The individuals shown are often people who have a deep, Christian faith.
"What I try to do is make my points from the middle, which is why so much of the show takes place in the middle of the country," Rowe said in a phone interview Monday with The Christian Post about his upcoming presence on the Christian network. TBN will feature 13 half-hour episodes in its first season, with plans for more.
What was most important for the show were "unscripted content, no second takes, and real people who can in their own words describe what they are doing, why they are doing it," Rowe explained.
He sees his own role not so much as a host but as an "avatar and a cipher," to display people as they are, doing something they enjoy, and then letting the evidence of all that speak for itself. And when done right, he noted, the kinds of shows he works on leaves people feeling better about the state of the nation and better about the human race more generally. This one will be no exception.
Rowe was raised a Presbyterian in Baltimore County, Maryland — his grandfather built part of the church he grew up in. He told CP that in his family, faith "was never the main attraction, it was always around the edges."
"Of course we went to church, of course there were Lenten dinners," and the Boy Scout troop he was a part of met in the church basement, he said.
"It really wasn't until I was 15 or 16 years old that I realized that the church was always there, it was always a part of what we were doing, even if it wasn't at the center of everything we did. But when I started making TV, I realized that a lot of the places where I went, people's faith and people's church ... they occupied the same kind of real estate, but when I saw the finished versions of other shows, those things were always cut out," he said.
He mentioned that he never set out to do anything radical with "Somebody's Gotta Do It" or "Dirty Jobs" but when he sits down in someone's home for a meal and the family bows their heads to pray before eating he tells the network, "Look, it's a disservice to them to edit out the grace. This is who they are and that's what they do before dinner."
"My bigger issue is just saying to television in general: 'Don't tell the story you want to tell. Tell the story you find.' And by and large, if you commit to telling the story you find you are going to find people who have an element of faith in their life."
In late August, Rowe garnered notable media attention for a nearly 1400-word, robust response to a commenter on his Facebook page who had accused him of being a coward for not taking a stand against white nationalism, a subject that was on many people's minds following alt-right protests and violent events in Charlottesville, Virginia, earlier that month. The commenter asserted that because white nationalists regard educated people as academic elitists and that an anti-intellectual current is now running through the United States — supposedly promoted by Republicans who love Rowe — Rowe never spoke up because he did not want to alienate them or anyone else.
"The country feels bad right now and part of the reason the country feels bad is that they've spent the past couple of years looking at bad things," he told CP regarding that particular exchange and of the bitter divisions plaguing the United States. While he does not advocate being ignorant of current events, Rowe observed that if people spend the bulk of their day watching cable news and what's going on in the "hot mess we call social media," it is extremely unhealthy.
Spend any time surfing through the television channels, he added, "and you'll see bulging veins and spittle flying through the air. You're going to see natural disasters, you're going to see tragedy."
Those things have always been with us but today everyone has a camera which means they also have the ability to broadcast, and the tendency is to point those camera lenses "at things that blow up and go off the rails," Rowe said, "and the more bad things you see, the worse you are going to feel."
The repurposed content in "Somebody's Gotta Do It," he went on to explain, provides a contrast in the world of mass media; the series gives a voice to people who wake up "kind of agitated because they believe the world can be a better place if they stay true to their calling and mission," no matter how modest it seems.
"It can be the married couple I met up in Minnesota who spend every day together carving ice with chain saws. They sell ice sculptures. So what can we learn from their dedication to ice, their dedication to each other, the whole ephemeral way the world is melting and virtually nothing is permanent except for the faith we have in each other?" he asked. The series explores these kinds of questions from several angles.
Rowe believes the way he and the producers shot and presented the show will be warmly received by TBN's mostly Christian audience, reiterating that while he has deeply felt opinions he always aims to argue from the "middle" because it is just too "easy to preach to the choir, it's easy to throw red meat to the lions."
"For me," he continued, "what's the old expression, 'Comfort the afflicted and afflict the comfortable,' that's really what religion is good at when it is done right. And the truth is, so is television. You want a take a position but you want to do it in a surprising posture."
He pointed out that in recent conversation on his Facebook page — he has 5 million followers there — about a scholarship his mikeroweWORKS foundation awarded a former prison inmate reached approximately 3 million people. The reach was so large, he believes, because of the spirited yet civil manner in which it was discussed.
"I would just say that there's always a way to have conversation that doesn't leave you feeling like you have just crawled through a sewer ... and I've crawled through a few," Rowe mused.
Rowe is also the host of "The Way I Heard It" podcast, each episode of which captures his take on "a true story about a real person, place, or thing." The foundation Rowe leads awards scholarships to students pursuing careers in the trades. In 2010, 2011 and 2012, Forbes magazine listed Rowe as one of the nation's 10 Most Trustworthy Celebrities.