Millionaire Prophet TB Joshua Sent 4,000 Bottles of Powerful Holy Water and Money to Cure Ebola in Sierra Leone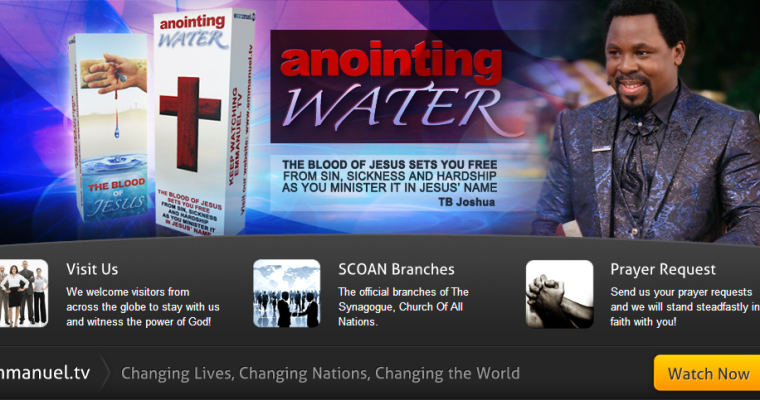 Prophet TB Joshua, one of Nigeria's most controversial and richest preachers according to Forbes, recently announced that he sent more than 4,000 bottles of his powerful anointing water, which users claim has worked many miracles, to help victims of the deadly Ebola virus in Sierra Leone, Liberia.
"Prophet T.B. Joshua announced in The SCOAN Saturday Prayer Line that 4,000 bottles of New Anointing Water have arrived in the nation of Sierra Leone, alongside $50,000 in humanitarian aid, to support the ongoing crises there caused by the disease of Ebola," explained a post on the Facebook page of TB Joshua Ministries.
"The Anointing Water was sent in a private jet that cost an additional $50,000 to charter, making $100,000 given by Prophet T.B. Joshua and the Emmanuel TV Partners to reach out to the troubled nation," it ended.
Joshua who leads the Synagogue Church of All Nations (SCOAN) in Nigeria explained on the church's website that God is powerfully expressing himself through the Anointing Water he distributes.
"By using the Anointing Water, you are symbolically setting yourself apart for Jesus Christ's special attention as you pray in faith. I mean, you are positioned for mercy, favor, healing, deliverance, blessing, prosperity and fruitfulness," said Joshua.
"It is not the Anointing Water that heals the sick but Jesus Christ Himself. There must be faith both in the person praying and in the person being prayed for. Prayer must proceed from and be accompanied with a lively faith. It is this that brings about the healing, not the Anointing Water," he was quick to add.
Users of the Anointing Water have profess their faith in the product, claiming many miracles including deliverance from barrenness and making a car bullet-proof.
Joshua, who was reported by Forbes to be worth about $10 - $15 million in 2011, has been a controversial figure for several years now due to his bold claims to be able to heal incurable diseases such as HIV/AIDS, cancer and paralysis. Forbes also notes that he is also one of the most philanthropic preachers as well giving away more than $20 million to charity.
The Centers for Disease Control and Prevention (CDC) warned last week that Americans should avoid non-essential travel to Liberia as a result of the Ebola outbreak which has been ongoing there since March 2014. At least three Americans have been reported infected including two Christian missionaries who were working to assist the afflicted.
The CDC said the Ebola outbreak which also affects Guinea and Nigeria is the largest outbreak in history.
"If you must travel, such as for humanitarian aid work in response to the outbreak, protect yourself by following CDC's advice for avoiding contact with the blood and body fluids of people who are ill with Ebola," warned the CDC.
"This recommendation to avoid nonessential travel is intended to facilitate control of the outbreak and prevent continued spread in two ways: to protect US residents who may be planning travel to the affected areas and to enable the Liberian government to respond most effectively to contain this outbreak," it added.
Ebola according to the CDC is native to several African countries and is caused by infection with one of the Ebola viruses. It is spread through direct contact with a sick person's blood or body fluids. It can also be transmitted through contact with contaminated objects or infected animals.
Among the symptoms of the disease are fever, headache, joint and muscle aches, sore throat, and weakness, followed by diarrhea, vomiting, and stomach pain. Skin rash, red eyes, and internal and external bleeding may be seen in some patients explains the CDC.