Christian Mother's Video About Special Needs Son Nears 10M Hits
A young mother's video testimony of her special needs son and her decision not to abort him has garnered over 8 million views on GodVine and 1.4 million hits on YouTube.
Overwhelmed by the response over the past two months, Lacey Buchanan is continuing to boldly testify about the joy of raising Christian – who was born with a bilateral cleft palate and lip and almost completely blind – and her faith in God.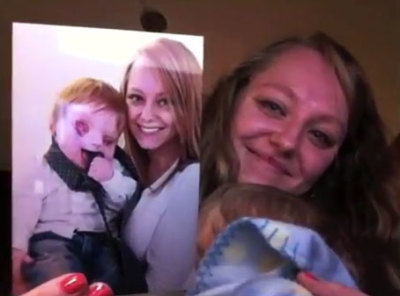 "We are still in the early days of raising Christian. We still have many more blessed years to come in raising our little man who will one day be a big man. In all that in between time, I am praying for guidance in helping Christian to become a God fearing, God obedient, successful, happy, productive, loving adult," she wrote on her blog last week.
The viral video was posted in March, a little over a year after Christian was born. In it, Buchanan recounts her story on written note cards – from the time she met her now husband, Chris, when she was 15 years old to the time they married and had their first child.
When she was 18 weeks pregnant, doctors told them that something was wrong with Christian and throughout her entire pregnancy thereafter, they weren't certain as to what the exact problem was. They wondered whether he would live or be mentally impaired.
Christian was born on Feb. 18, 2011, and the parents were ecstatic he was alive. But the baby's condition was worse than they expected. He was among only 50 people in the entire world with a cleft lip and palate. Additionally, his eyes were also clefted.
When Buchanan took her son out in public, people would stare and make inappropriate comments, with "one girl" even telling her that she was "a horrible person for not aborting Christian in utero."
The Christian mother, who is attending law school while also working at a full-time job, explained in her blog that abortion was never an option for her.
"The word 'abortion' never crossed my mind when I was pregnant, but the word 'love' sure did," she stated. "Christian was alive the second God placed a soul into that tiny little embryo. He was my son before he was ever conceived. He was God's child LONG before the world began. So no, it's not my choice. It never was."
"God showed me to look beyond what I can see, to alter my idea of love to fit His idea of love, and to accept what He chose for my life because He is God and I am not," she added in her post earlier this year.
As he grew older, Christian began laughing and bringing joy to others around him. Soon, the parents began to hear from many people about how Christian inspired them and how beautiful he was.
"What a special child doing big things for God at such an early age. What special parents, to realize God works all things for good for those who love Him. Christian's story touched my heart -- I will pray for your precious miracle. The smile on his face makes me smile :)" says Heather in a comment on Buchanan's blog.
In the video, viewers do not see Christian's face until near the end of the 7-minute clip. Buchanan calls her son the love of her life and a miracle.
"God chose me to be Christian's mother. Not because He knew that I could handle it or that I am so special, but because He knew that I would have the support I needed from family and friends, and because He knew that I would seek His help in raising Christian and getting through the hard times instead of trying to do it on my own," Buchanan wrote on her blog.
If she had to do it all over again, she said she would.
In her latest update posted last week, Buchanan said Christian has "some light and dark perception" – is able to detect the light. He is also able "to pull to stand all by himself."
The parents are continuously praying for healing in Christian's life and hope that he will be able to see one day.