Muslim Man Who Threatened Christians in Facebook Video Arrested on Terrorism Charge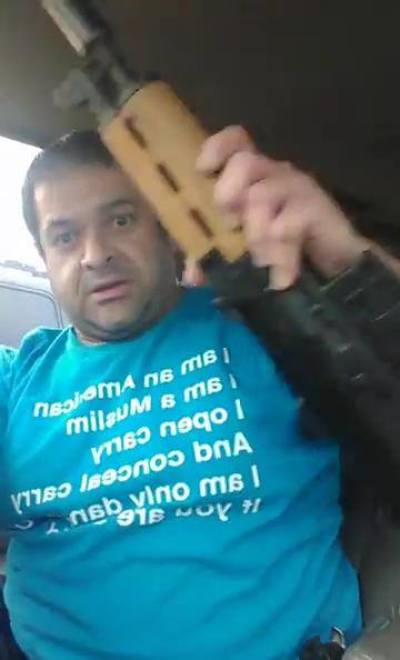 The Muslim man who allegedly threatened attendees at a Christian conference in a Facebook post after being ejected from the event in South Dakota earlier this month has been arrested and charged with a terrorism related offense.
South Dakota Attorney Gen. Marty Jackley and Lincoln County State's Attorney Tom Wollman announced on Friday that 45-year-old Ehab Abdulmutta Jaber was charged with one count of terrorist threat.
The news come just a few days following a Sioux Falls police spokesman's claim that Jaber would not be charged after he was ejected from the Worldview Weekend Conference critical of radical Islam in Sioux Falls on April 9. After he was forced to leave, Jaber took to Facebook to post live videos in which he issued threats and showed off an arsenal of weapons.
In one video, Jaber, who used to be a resident of Saudi Arabia, revealed two handguns and an AK-47 assault rifle and told the attendees of the conference to "be scared." In another post from April 19, Jaber allegedly challenged Americans who oppose him to a "shoot out."
According to a press release from Jackley's office, Jaber has been charged with a class 5 felony, which is punishable by up to 5 years in prison and/or a $10,000 fine.
In addition, law enforcement agents searched Jaber's residence and found not only firearms but also methamphetamine. The possession of the illegal substance will be prosecuted by the Minnehaha County State's Attorney.
"Charges stem from an alleged incident on April 9 involving Jaber at a hotel in Sioux Falls. He was observed to have been videotaping an ongoing event with his cell phone and carrying a handgun," the press release says. "He was escorted out of the event, but later was found to be live streaming terrorist threats to the public and brandishing a number of firearms and ammunition."
In a Facebook video after the news of his Facebook videos became viral, Jaber defended himself in another video saying that he is not a threat.
"I am not the threat. There is no news here. I don't give a [expletive] about what they tell you in mainstream media," he said.
Last week, a spokesman for the Sioux Falls Police Department, Sam Clemens, said that Jaber likely would not be charged because "he didn't break any laws."
"Everything he was doing was legal," Clemens said, according to the Argus Leader. "It would have been a different story if he had threatened anybody."
After Clemens' statement, Brannon Howse, a radio host and one of the speakers at the April 9 event, wrote that residents should be calling for the resignation of the Sioux Falls Police Chief and Wollman "for letting this man be on the street for 12 days when there was an abundance of evidence that this man was a threat to the public."