Muslim Mobs Burn Down Churches, Pastors' Homes in Niger for Charlie Hebdo's Prophet Muhammad Cartoons; 10 People Dead in Protests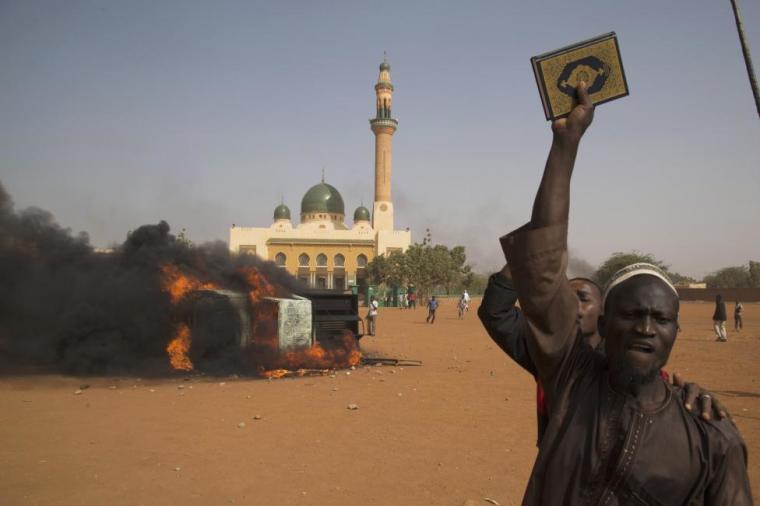 At least 10 people have been killed in violent protests in Niger over the weekend, after Muslim mobs burned down a number of churches in retaliation to French satirical magazine Charlie Hebdo publishing cartoons depicting the Muslim prophet Muhammad.
Christian missionaries in the capital, Niamey, told International Christian Concern that "all of [their] churches have been burned along with the pastors' homes ... almost every church [they] know or are associated with has been attacked." The missionaries, who despite seeing smoke "around all sides of [their] house," remain in Niamey.
"Jesus said: 'I will build my church and the gates of hell will not prevail against it.' We are confident that this persecution will only grow the church and the Gospel in Niger," the missionaries continued.
Charlie Hebdo, which suffered a terror attack earlier in January on its offices in Paris, where 12 people were killed, is a secular publication that has targeted different religions, including Christianity. There is no information about if and how the churches in Niger that were burned down could have been connected to the newspaper.
Al Jazeera reported that the violent demonstrations took place in Nioamey, and at least five people on Saturday died inside churches and bars that were set on fire. Another five people are reported to have died on Friday.
The protests apparently began at Niamey's grand mosque, BBC News said, and at least six churches were burned down in the attack.
Pastor Zakaria Jadi, who runs one of the churches burnt down in the attack, said that he was in a meeting with other church elders when he heard of the riots.
"I just rushed and told my colleagues in the church to take away their families from the place," Jadi said. "I took my family to take them out from the place. When I came back I just discovered that everything has gone. There's nothing in my house and also in the church."
Charlie Hebdo's decision to feature a drawing of Muhammad in its first cover last week following the Paris attack caused much debate. While mass crowds across France have stood behind the magazine's freedom of speech, some, like Salah-Aldeen Khadr, executive producer of Al Jazeera English, suggested that the decision will only further increase tensions.
"You don't actually stick it to the terrorists by insulting the majority of Muslims by reproducing more cartoons — you actually entrench the very animosity and divisions these guys seek to sow," Khadr said.
Niger's President Mahamadou Issoufou was one of 40 world leaders to march in Paris last Sunday in unity against terrorism. Issoufou condemned the violence against Christian churches in Niger, which is a predominantly Muslim nation.
"Those who loot these places of worship, who desecrate them and kill their Christian compatriots ... have understood nothing of Islam," the president said.
ICC noted that Niger has attracted a growing radical sentiment in recent times. Boko Haram leader, Abubakar Shekau, was born in Niger, and his sermons against Christians calling on Muslim men to join a global jihad can be heard at mosques across the country.
Cameron Thomas, ICC's regional manager for Africa said: "Communities across the Islamic world, outraged by the satirical magazine's depictions of Muslims and the prophet Muhammed, have formed into violent mobs and taken to burning churches and Christian homes and businesses. In response, Christians in Niger, Mali, Sudan and Somalia have fallen into states of panic and, in many cases, have fled their homes for shelter from possible attack in response to the publication's decision to confront issues of Islamic extremism with cartoons."
Thomas added: "Christians in Muslim-majority countries hostile to even the practice, let alone the spread, of Christianity face incredible hardship for their faith that is often made worse by seemingly unconnected actions in the Western world. Over the course of these riots, dozens of churches and Christian businesses and homes will burn for a cause unconnected to themselves. Our thoughts and prayers go out to those who have lost property and loved ones in the violence, with the hope that no more innocent lives will fall victim to the violence or destruction that was sparked last week on the streets of Paris and has now spilled over onto the streets of Niamey, more than 2,000 miles away."