Muslim Villagers Building Church in Pakistan Claim Christians, Muslims 'Worship Same God'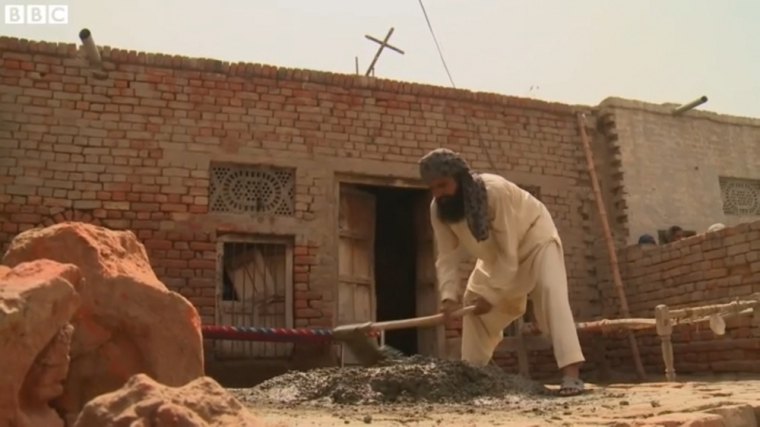 Muslim villagers in a Pakistani community are helping to build a church for their Christian neighbors, seeking to show peace and solidarity in a country deeply troubled by religious persecution of minorities.
"After local riots we are trying to bring people together even more," villager Ijaz Farooq told BBC News in an interview posted on Monday, referring to 2009 riots in the nearby city of Gojra against Christian homes, which left 10 people dead.
"We have increased our activity so we don't have to face something like that. By building this church we want to show that we are united as a community," he added.
The villagers in Khaksabad are building a new mud chapel for the Christians, whose previous church was destroyed by monsoon rains.
In a previous interview with Asia News, Dilawar Hussain, a Muslim shopkeeper, described the interfaith effort: "I learned about the project in a community meeting last month," Hussain said. "A church is also a house of Allah; praying is what matters. We worship the same God."
Wilson Chowdhry, a London-based Christian human rights activist with the British Pakistani Christian Association, told The Christian Post that the organization is assisting with fundraising efforts to pay for the new church building and still needs £7,500 to complete the project.
He says that the church needs about £7,500 to be completed and BPCA has been asked to solicit donations for the church
The BBC report noted that unlike many other areas in Pakistan, Muslim and Christian households are not segregated in Khaksabad, which allows people of different faiths to share more of their lives together.
"Since my childhood we have all lived together in this one place. We live with love [and] attend each other's weddings and festivals," said Faryal Masih, a Christian villager.
"We are together in times of happiness and grief. I pray that we never have to go through what happened in Gojra ever."
Fr. Aftab James Paul, who is an assistant parish priest at the St. Fidelis Church in Khushpur, said the Muslim community is also helping with donations, a gesture which he called a "dialogue of life."
"Another Muslim donated 2,000 rupees on Easter Sunday," Fr. Paul said.
Christians throughout much of the rest of Pakistan suffer severe persecution due to blasphemy laws and a lack of police protection, as persecution watchdog groups like Open Doors have said.
The argument that Christians and Muslims worship the same God has been rejected by a many theologians, such as Michael Brown, host of the nationally syndicated talk radio show "The Line of Fire," and president of FIRE School of Ministry.
"To the Muslim, God (Allah) is too transcendent and 'other' to be our friend. He, too, is worshiped and adored and obeyed, just as our heavenly Father is to be worshiped and adored and obeyed, but Muslims do not have 'fellowship' with God as Christians do (see 2 Corinthians 13:14)," Brown wrote as part of an op-ed published by The Christian Post back in December 2015.
"In Islam, a human being cannot enjoy that kind of personal intimacy with the Creator," he added.