Muslim Men Attack Pastor With Knife After Asking Him to Share the Gospel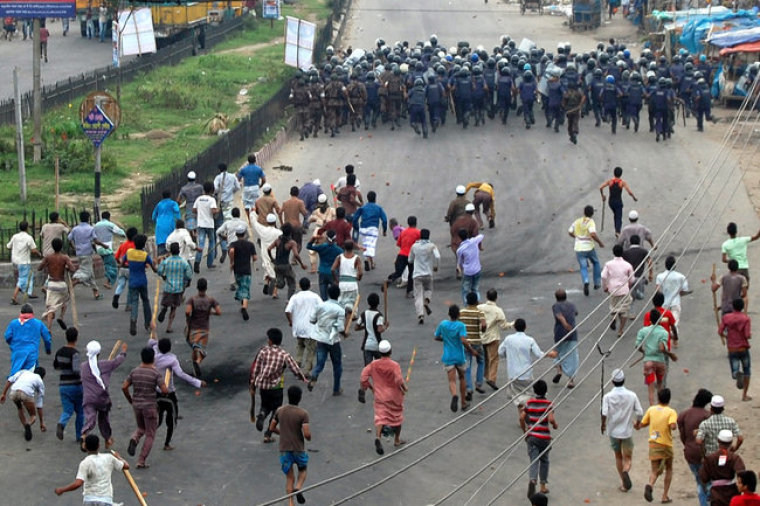 Three Muslim men who pretended to be interested in learning about Christianity attacked a Bangladeshi pastor in his home earlier this week after he agreed to share the Gospel with them.
The men tried to slit the throat of the Rev. Luke Sarker, 52, with a knife. Sarker's wife heard his screams and ran to confront the attackers. The men fled after she and other neighbors arrived, according to local authorities.
There are conflicting reports as to exactly how the attackers escaped. Police said they found a motorcycle alleged to belong to the assailants outside the pastor's home. However, other reports claim the attackers fled using the same motorcycle on which they had arrived.
"The attackers came on a motorcycle and fled on the same motorcycle when the pastor, his wife and daughter cried, 'Save us, save us,' and neighbors rushed to the house," according to Mohammed Alomgir Kabir, a police superintendent in Pabna, Bangladesh.
Police have arrested a member of Islami Chhatra Shibri, a student-run wing of the religious extremist political party Jamaat-e-Islami, in relation to the attempted stabbing of the pastor. He is being held for questioning.
Sarker is the pastor of Faith Bible Church in the district Pabna, located in the northwest region of Bangladesh.
He had met two of his three attackers in his home on Sept. 18 where they discussed religions, including Islam, Christianity and Hinduism. They had arranged this second meeting for Monday, where they attacked Sarker.
The pastor only suffered minor injuries during the melee.
The attack comes less than one week after the murder of a 66-year-old Japanese man in northern Bangladesh, of which Islamic State claimed responsibility.
An online account representing the terror group posted a statement which said that a "security detachment" had killed Mr. Hoshi "after precisely tracking him," according to The New York Times.
"The series of security operations against citizens of the crusader coalition states will remain ongoing," read the statement, according to SITE Intelligence Group, an organization that monitors radical Islamic websites.
The same account claimed responsibility for the death of Italian aid worker Cesare Tavella, 50, in Dhaka last Monday. Tavella was shot to death while jogging, according to Dhaka police.
Back in April The Christian Post reported on a 15-year-old Pakistani Christian boy died as a result of being beaten and set on fire by two Muslim men last after answering truthfully if he was a Christian.
After answering when asked by the men whether he was a Muslim or Christian, the men beat him, chased him down, doused him in kerosene and set him on fire when he told them that he was a Christian. Doctors ruled that Masih's body was 55 percent burned.
Although doctors thought Masih might be able to survive his burns, Gill told CP that the hospital did not have the burn treatment facilities needed to treat the severity of Masih's wounds.
Back in March, an angry Muslim mob hacked 27-year-old atheist blogger Washiqur Rahman to death. The attack is believed to be related to his atheist beliefs, which he expressed in his online writing.
"He used to write a satirical column on Facebook against believers. He was an atheist. His killing has to be connected to his writing," said a personal friend of Rahman's, Tamara Setu, to The Guardian.
Rahman belonged to several Facebook groups, including one named Atheist Bangladesh.
Local police claimed that Rahman had not actually been an atheist, but was made a target by radical Islamists because of differently held ideologies as a Muslim.
"Those who killed him differed on his ideologies about religion. He was not an atheist. He was a believer. But the way he followed religion was different from the way radical groups insist," said Biplob Kumar Sarkar, deputy commissioner of Dhaka Metropolitan police.