'My Ancestors Swung by Their Necks but None Swung by Their Tails' Pro-Creation Sign Stirs Controversy
'My Ancestors Swung by Their Necks but None Swung by Their Tails' Pro-Creation Sign Stirs Controversy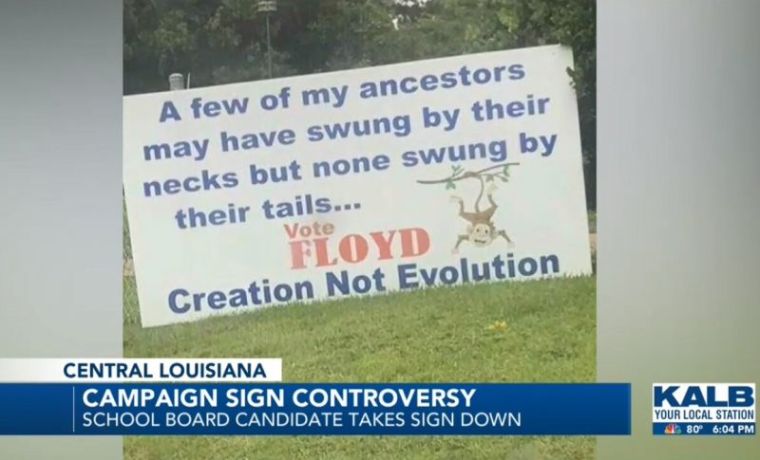 A Louisiana candidate running for a district seat at Rapides Parish School Board has taken down a pro-Creationism sign for his campaign after it drew considerable controversy.
"A few of my ancestors may have swung by their necks but none swung by their tails... Vote Floyd. Creation not evolution," read candidate Jamie Floyd's sign along with a drawing of a monkey hanging by its tail from a tree.
The NBC News affiliate KALB reported last week that it had received a number of calls about the sign in Alexandria before it was taken down.
Resident Jerald Dixon said: "Very inappropriate. I would not vote for him at all."
Michael Kennedy, another community member, said that in the 1960s and 1970s, "that is something that was a racist comment that was used quite often."
Others, such as Thelster Holmes, did not see a problem with the sign.
"Actually, those are just words and words never hurt," Holmes commented. "I think it's OK."
Floyd argued that the sign was not meant to be racist.
"It had nothing to do with race at all," Floyd said, according to Alexandria Town Talk. "That wasn't meant to be the way it was taken."
He added that "had I known it would offend people, I never would have put that sign up."
Floyd pointed out that he has come up with other campaign signs meant to be colorful, such as one reading "Make the School Board Great Again," with a picture of President Donald Trump; and another of Uncle Sam reading "Signs don't vote but I need you to."
Floyd again apologized if he caused offense in a statement to local news station KALB.
"I have used this line in a past Town Talk article and never once received a negative comment. I also ran it by other races before putting it out and they understood what I was saying."
Floyd said he won't use the sign again. Still, the district seat candidate insisted he's "not sorry" for his belief in "Creation and not evolution."
The belief in Creationism has been historically popular in the U.S., though reached a low in a May 2017 Gallup poll, where only 38 percent of American adults said they believe God created humans in their present form at some time within the last 10,000 years.
The same percentage of respondents to the survey said that humans developed over millions of years, but with God guiding the process. Some 19 percent argued that God had no part in the development of humans.
Among the denominations, Roman Catholic Church members were most likely to believe that humans evolved with God, at 45 percent. Half, or 50 percent of Protestants and other Christians, backed the Creationist viewpoint.