Mysterious Red Mark Beneath Painting of Crucified Christ at Newport Church Leads Pastor to Speculate on Jesus' Presence
Mysterious Red Mark Beneath Painting of Crucified Christ at Newport Church Leads Pastor to Speculate on Jesus' Presence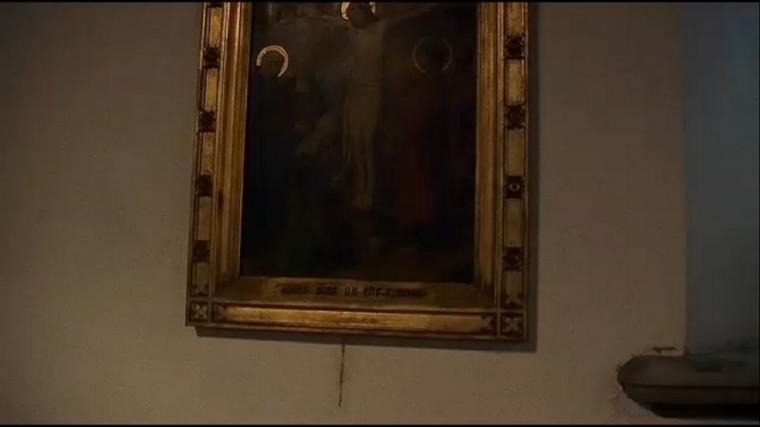 A narrow red stain that has remained for years beneath a painting of a crucified Christ at the Saint John the Evangelist church in Newport, Rhode Island, has led the church's pastor to speculate on its possible meaning and the presence of Jesus.
Providence Journal reported on Monday that the 140-year-old Episcopal church has recently been attracting attention for the strange rust-colored stain, which in the right light appears to be coming directly from Jesus' crucified feet from the 12th Station of the Cross painting.
The mark has been there for years, but the church's leadership has resisted trying to turn it into a "roadside curiosity."
The Rev. Nathan J.A. Humphrey spoke out about the mark in a sermon on Sunday, however, and said that he could not help but speculate on what it could mean.
"For myself, I find that in leading the Stations of the Cross ... when I get to the 12th Station, I can't help but contemplate the meaning of the mysterious red mark below it," Humphrey told the congregation. "I stop, look, pray, and listen. And when I do, what I always hear is, 'Pay attention. I am here.' Jesus is here."
Humphrey added, according to ABC 6 News, that it can't be denied that the mark is bringing some people to Jesus' presence in a way that other things do not.
It is not known exactly when the mark first appeared, but some parishioners claim to have seen it more than 20 years ago. Saint John the Evangelist church's Stations of the Cross paintings were made in Belgium, painted on tin and framed in wood, and given to the church nearly a century ago.
"It's almost as if God is saying there is something to pay attention to in this church," Humphrey said.
The pastor clarified that he will not be selling tickets and turning the mark into an attraction, but said that he invites anyone who wants to view the painting to come to the church and do so, and make up their own mind about any possible meaning.
"I'm not about to put up velvet ropes and sell tickets," Humphrey said. "But whether one scoffs or not, for those of faith, it is a sign Jesus is present."