Nation of Islam's Louis Farrakhan Declares Jesus Is His Redeemer, Says Devil Can't Have Him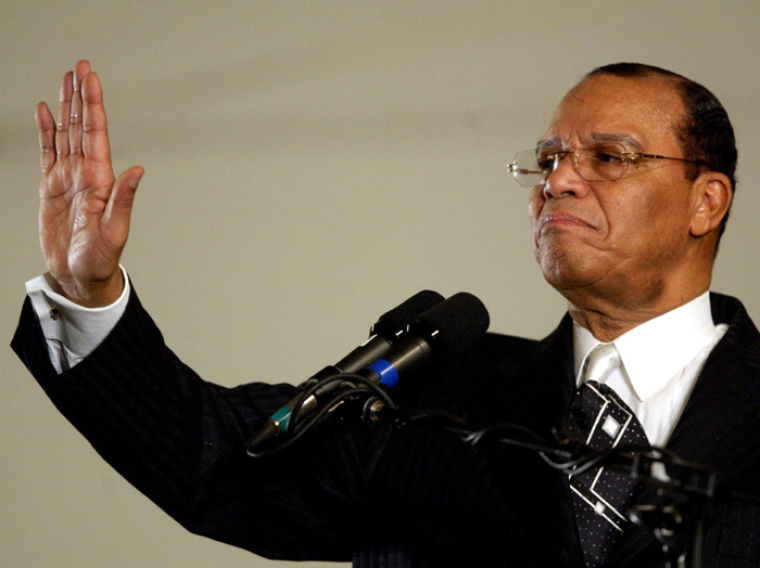 Reflecting on his inevitable physical death, leader of the Nation of Islam, Louis Farrakhan, 84, declared in a controversial video recording Tuesday that Jesus will save him from the grip of death despite his organization's creed that there is only "One God whose proper Name is Allah."
The declaration came the same day Farrakhan was shown visiting Bishop Larry Trotter, longtime pastor of Chicago's Sweet Holy Spirit Church, who was hospitalized last Wednesday with a "serious illness" following a trip to Israel.
"I thank God for guiding me for 40 years absent my teacher (Elijah Muhammad). So my next journey will have to answer the question. I'm gonna say it," Farrakhan teased briefly in the clip before declaring: "I know that my redeemer liveth."
"I know. I'm not guessing that my Jesus is alive. I know that my redeemer liveth and because he lives I know that I, too, will pass through the portal of death yet death will not afflict me," he continued.
The official creed of the Nation of Islam blends teachings from the Quran and "the Scriptures of all the Prophets of God." Even though the Nation of Islam also claims to believe in the "truth of the Bible" the religious group also believes the Bible has been "tampered with" and reinterprets Scripture to avoid "falsehoods."
In the clip shared on Tuesday, Farrakhan appears to repent for the things that he has been teaching.
"So I say to the devil. I know I gotta pay a price for what I've been teaching all these years. You can have the money, you can have the clothes, you can have the suit, you can have the house but me, you can't have," he declared.
The Christian Post reached out to the Nation of Islam for comment on the video Friday and was directed to Farrakhan's official spokesperson, Richard Muhammad, editor of the Final Call newspaper. A message left with a representative of the publication for Muhammad was not returned. Other Nation of Islam officials contacted for this report also promised to provide a response to explain what Farrakhan meant in his comments but they did not respond by press time.
The Nation of Islam believes that Allah "appeared in the person of master W. Fard Muhammad, July 1930; the long-awaited 'Messiah' of the Christians and the 'Mahdi' of the Muslims," according to their website. Very little was known publicly, however, of the obscure "Messiah," according to a 1974 Chicago Tribune report.
"The Black Muslim movement came into being around 1930. Its first apostle was Wallace D. Fard, or Wallace Fard Muhammad, a salesman of silks, incense, and perfumes in the Detroit ghetto who is remembered variously as a light-skinned black man, a light-skinned Arab, and a white man," the report said.
The last man to see Fard alive was his successor and Farrakhan's teacher, Elijah Muhammad.
"Few can tell at this point, since Fard has not been seen since 1934 when he took off in an airplane from the Detroit airport. The man who saw him off, by his own testimony, was Elijah Muhammad [born Elijah Poole, the son of a Georgia Baptist minister], who assumed Fard's mantle and mission," the report said.
In the 1970s there were as many as 2 million adherents to the brand of Islam taught by Wallace F. Muhammad, according to the Tribune. Lawrence A. Mamiya, a professor of religion and African studies at Vassar College, estimated that Nation of Islam followers number about 50,000, according to a 2007 New York Times report. Much of that number was made up of prisoners attracted to the religion's emphasis on black identity and fighting racism. A small number of adherents can also be found in England and the Caribbean.
In August 2006, health problems forced Farrakhan to give control of the Nation of Islam to an executive committee. Radiation seeds implanted in the minister 10 years earlier to fight prostate cancer had gotten rid of the disease but he sustained damage to nearby organs.
It was suggested at the time that without Farrakhan, the now 87-year-old Nation of Islam would likely fade with no apparent successor.
In an earlier clip of Farrakhan speaking to congregants at New Sunny Mount Missionary Baptist Church in St. Louis, Missouri, on July 17, 2015, he appeared to be drawing closer to Jesus in the winter of his life.
"The Jesus that I know, he came into the world to save us from our sins. O thank you Jesus," he said.
"They say, 'wait a minute Farrakhan, I thought you was a Muslim? Yeah, Jesus was too," he said in a clearly false reach. Jesus was born a Jew.
"You never read in the Bible where Jesus said 'I'm a Christian.'... He didn't say it in Matthew, He didn't say it in Mark, He didn't say it in Luke, He didn't say it in John. Well, what are you fighting over? 'I don't wanna go hear Farrakhan 'cause he ain't no Christian. He don't love Jesus,'" Farrakhan said mimicking his critics.
"Stop lying. I can prove to you that you don't love Him. He said, 'I am the way, the truth and the life.' He never said he was Episcopalian or Catholic, but He is universal. Why do you fight each other over names He never used?
"Jesus said not my will but thy will be done. Listen to His Words. Whatsoever the Father bid me to say, that I say and whatever the Father bid me to do, that I do. That's the perfect description of what Islam is. It means entire submission to do the will of God," he said.