National Cathedral Hosts Islamic Prayers; Lone Protester Interrupts Service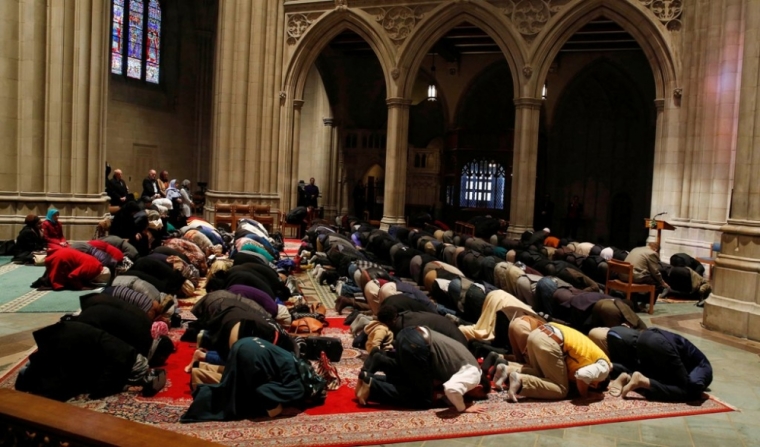 Correction Appended
The Washington National Cathedral hosted it first Muslim prayer service Friday afternoon in an effort to promote interfaith prayer and improved global relations between Muslims and Christians.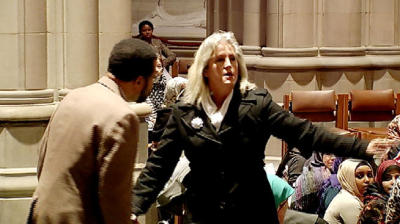 UPDATE: 3:31 p.m. The Muslim prayer service held at the Washington National Cathedral was briefly disrupted by a protester, according to a local NBC report.
"Jesus Christ died on that cross over there!" a woman said loudly, immediately after announcements at the beginning of the service were made. "He is the reason why we are to worship only him. Jesus Christ is our lord and savior!"
According to the NBC report, she continued, "We have built, and allowed you here in mosques across this country. Why can't you worship in your mosque, and leave our churches alone?"
The protester was then escorted out of the cathedral, News4's Kristin Wright reported. She was removed without incident, but she continued her protest once she was taken to an adjoining space. SEE VIDEO CLIP OF PROTESTER BELOW
The Episcopal church set in Washington, D.C. altered its visitor tour schedule in order to host traditional Islamic Friday prayers called Jumu'ah. The service was led by South African Ambassador Ebrahim Rasool, and held in the Cathedral's north transept, an area considered "almost mosque-like" because of its arches and limited iconography.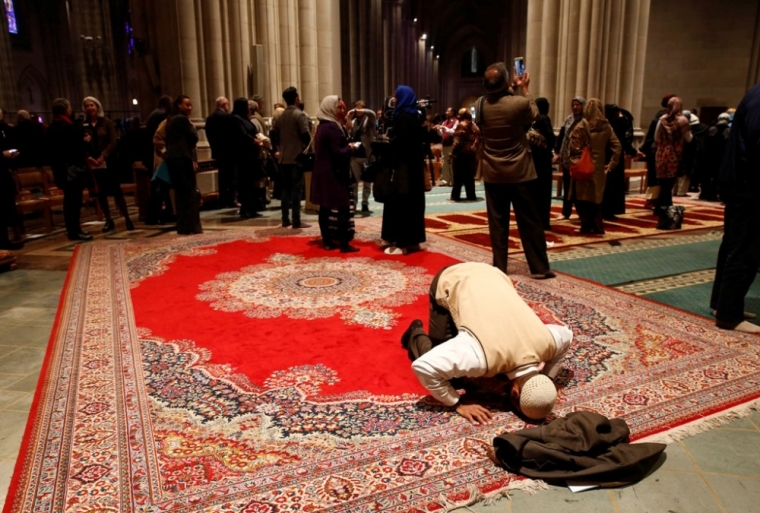 Although this is not the first time the Cathedral has welcomed Muslims to join in on its interfaith services and events, it is the first time it has invited Muslims to lead their own prayers within its walls.
Rev. Canon Gina Gilland Campbell was scheduled to offer a welcome to start off the service.
According to the National Cathedral website,Campbell wanted to hold the historic service because she believes that "powerful things come out of praying together."
The site further explains "Leaders believe offering Muslim prayers at the Christian cathedral shows more than hospitality. It demonstrates an appreciation of one another's prayer traditions and is a powerful symbolic gesture toward a deeper relationship between the two Abrahamic traditions."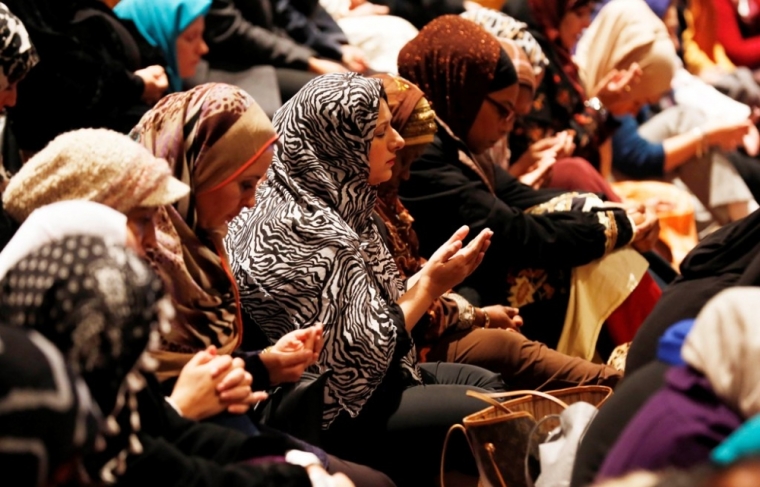 Not everyone supports the Cathedral's gesture. American Family Association Director of Issue Analysis Bryan Fischer said the Muslim prayer service violates the Ten Commandments.
"The first one of the Ten Commandments is what, you—talking the nation of Israel, true for individuals but this was the Ten Commandments for a nation – you shall have no other Gods before me. Allah is another God," He explained on his Focal Point podcast.
This is not the first time the National Cathedral has invited controversy with its services. In June the Cathedral invited openly transgendered Episcopal priest Rev. Cameron Partridge to preach from its pulpit in honor of LGBT pride month. Openly gay Episcopal Bishop Rev. Gene Robinson presided over the Sunday service. The Cathedral also hosts gay marriage ceremonies.
Planners hope Friday's service will inspire Muslims around the world to be hospitable to Christians.
The service was scheduled to be livestreamed onto the Cathedral's website so it is accessible to everyone.
Correction:  Saturday, November 15, 2014:
An article on Friday, November 14, 2014, about a Muslim prayer held at the National Cathedral incorrectly described the Cathedral as a Catholic church. It is an Episcopal church.
VIDEO CLIP OF PROTESTER BY NBC WASHINGTON BELOW