National Discussion Over Brittany Maynard's Decision to End Her Life Prompts Family to Release 13-Y-O Son's Video Message for His Friends Before Dying
Ethan Hallmark Gives Thanks, Encourages Faith in God While Battling Stage-4 Neuroblastoma (VIDEO)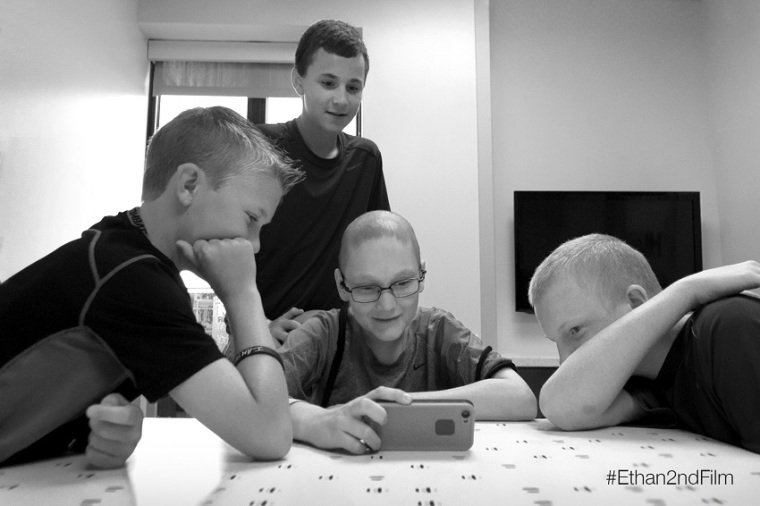 The family of Ethan Hallmark of Midlothian, Texas, whose four-year battle with terminal cancer before succumbing to his illness late last month at age 13, was made public through video, and has released a clearly different message than the one Brittany Maynard is giving in video in which she shares her desire to end her life on her own terms, drawing national attention.
"Thirteen years old and my son was not like mainstream America. He knew suffering was as much of a part of life as happiness was," wrote Ethan's mother, Rachel Hallmark in her most recent blog post that addresses dying with dignity in response to the discussion happening over the last few weeks surrounding Maynard's decision.
"Suffering exists all over this world in far greater forms than cancer. Taking a pill to give yourself an early demise isn't the solution whether you are facing cancer, poverty, warfare, abuse, or any of the endless other forms of suffering. With fearless bravery, he [Ethan] accepted that life wasn't always easy, that sometimes we have to face giants we'd prefer not to."
Maynard, who was diagnosed with a progressive brain tumor shortly after her wedding last year, received national attention after releasing a video explaining her choice to die on Nov. 1. However, she has recently released a new video sharing her thoughts with her friends, in which it appears her decision in regards to timing her death is not as clear.
"So if Nov. 2 comes along and I've passed, I hope my family is still proud of me and the choices I've made, but if Nov. 2 comes along and I'm still alive, I know that we'll just still be moving forward as a family out of love for each other and that decision will come later," Maynard, 29, said in the video.
Ethan's courage and faith in the face of difficulty is shown in the new "I am Second" documentary, "Many are the Wonders, The Second Story of Ethan Hallmark."
"You guys made a huge impact on this journey. I can't imagine it without you. You stood by me in the hardest parts and there's not a minute I've been in treatment without your support," Ethan said while reading a letter to his friends in the film. "At times it felt like God was far away but he was right there in my friends. ... Keep putting your faith in God and always remember He is with you even in the depths of suffering. He's good. Love you guys."
WATCH ETHAN'S VIDEO "13-year-old boy with cancer shares letter" BELOW
"I am Second" producers say Ethan's courageous battle with cancer was an inspiration to his family, friends and community as he showed how a young man in the midst of pain, suffering and death could still find joy and hope in life.
"Even though my cancer's been a lot of bad stuff. It's been a lot of good stuff, too," said Ethan. "I met friends I would have never met. I've grown closer to God; my family has. I wouldn't trade my relationship with God for anything."
"Many are the Wonders" captures a unique glimpse into the lives of the Hallmark family and their entire community of Midlothian as they face and overcome the darkest moments of the disease together with a united and inspirational hope, said producers of the film.
"Obviously I want to beat this disease, but I'm not going to be that sad if I don't," said Ethan in the film. "Of course I don't want to die. Who does? But it's not really my plan ... even though my cancer's been a lot of bad stuff, it's been a lot of good stuff too. I met friends I would have never met. I've grown closer to God; my family has."
Maynard has brought to light questions about death and pain as an advocate for access to death with dignity.
In "Many are the Wonders," Ethan and his parents, Rachel and Matt, directly address many of these life questions that are being discussed, as well as the raw questions about our humanity and the suffering and sorrow all people face.
"You have these moments where you ask God, 'Why? Why my son? How can a loving and omnipotent God allow a kid who is 9 years old to go through this suffering?'" said Ethan's dad, Matt. "God answered me in that moment. It was a moment that was crystal clear."
"Many are the Wonders" can be viewed at http://www.iamsecond.com/ethanhallmark.
I Am Second describes itself as a storytelling movement that intimately reveals the raw struggles, transformations, and triumphs of people from all walks of life. As the creator of over 100 films since 2008, I Am Second has impacted millions of people around the world through authentic stories well told. The website iamsecond.com and its Spanish counterpart yosoysegundo.com feature stories of hope and transformation.